Technology Search
ISTC Matchmaking support service presents a unique opportunity for Partners to expand their science cooperation with CIS and Georgian R&D organizations. We connect your technology interests with specialized expertise and specific skills of scientists and research institutes. A direct result of this activity is the establishment of science cooperation between Partner and CIS/Georgian scientists.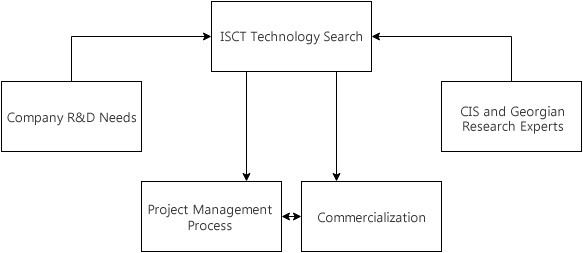 Important Fact: Service is provided free of charge

Service users:
Existing ISTC Partners, newly approved Partners and candidate Partners (companies/institutions that are currently in the process of ISTC Partner application).

How to become a Partner...

Network:
ISTC databases of 700 R&D Institutes, 76,000 talented scientists, using existing contacts network, obtaining information from external consultants, etc.

Technology areas:
biotechnology and life sciences, chemistry, physics, materials, information technologies, etc.
The International Science and Technology Center (ISTC) is an intergovernmental organization connecting scientists from Kazakhstan, Armenia, Tajikistan, Kyrgyzstan, and Georgia with their peers and research organizations in the EU, Japan, Republic of Korea, Norway and the United States.
ISTC facilitates international science projects and assists the global scientific and business community to source and engage with CIS and Georgian institutes that develop or possess an excellence of scientific know-how.
Annual Reports
Annual Reports
The electronic version of the 2020 Annual Report
2020 Audited Financial Report
view
Значимы проект
See ISTC's new Promotional video view

Subscribe to our newsletters