The International Conference "Nonlinear optics: East – West Reunion, September, 2011.
07.10.2011
The International Conference "Nonlinear optics: East – West Reunion" was held in Suzdal city, Vladimir reg., Russia,
on 21-23 September, 2011.

The Conference organizers were: the Institute of Applied Physics (Nizhny Novgorod), University of Nizhny Novgorod, General Physics Institute RAS (Moscow), Moscow State University, Institute of Extreme Light (Paris), Vladimir State University with support from Russian Foundation for Basic Research, the ISTC and Optical Society of America.

The Conference was focused on the analysis of achievements of Russian and West scientists in the fields of nonlinear optics, extreme, nonlinear photonics etc. during the last 50 years. The scope of the Conference with reference to the history of nonlinear optics and state-of-the-art included but was not limited to the following topics:

- generation of laser radiation harmonics;
- optical parametric processes;
- self-focusing phenomenon;
- supercontinuum;
- optical solitons;
- nonlinear optical materials and media.

The Conference brought together 145 participants from various countries. The special poster session of young scholars gave them excellent opportunities to communicate and get acquainted with legendary scientists

The ISTC presentation clearly demonstrated the high level of the research financed by the ISTC, the role of the Center in bridging East and West during the 17 years of its activities.

This Conference facilitated the development of scientific exchange between the Russian scientists from the leading research institutes and members of the International Laser Community.

For further information please contact Yuri Malakhov; e-mail address: malakhov@istc.ru, phone: +7 (495) 982 31 57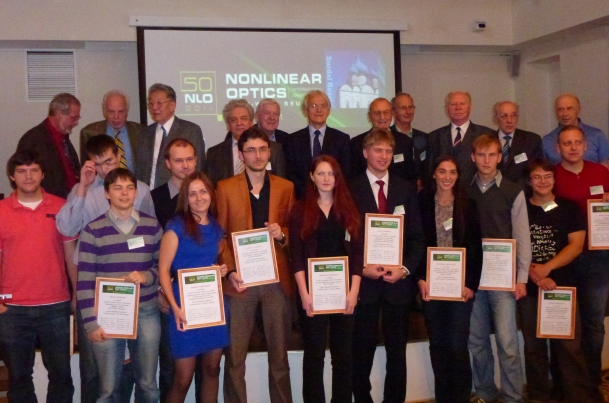 "Founding Fathers" and young generation
More photos related to the Conference are available on the web page:
http://www.nlo50.iapras.ru/photo/1/photo1.html
http://www.nlo50.iapras.ru/photo/2/photo2.html
The International Science and Technology Center (ISTC) is an intergovernmental organization connecting scientists from Kazakhstan, Armenia, Tajikistan, Kyrgyzstan, and Georgia with their peers and research organizations in the EU, Japan, Republic of Korea, Norway and the United States.
ISTC facilitates international science projects and assists the global scientific and business community to source and engage with CIS and Georgian institutes that develop or possess an excellence of scientific know-how.
Annual Reports
Annual Reports
The electronic version of the 2020 Annual Report
2020 Audited Financial Report
view
Значимы проект
See ISTC's new Promotional video view

Subscribe to our newsletters