ISTC hosts S&T Seminar within the framework of the Canada-Russia Business Summit
23.06.2009
On June 23, ISTC co-organised and hosted the S&T session within the framework of the Canada-Russia Business Summit held in Moscow. The business and governmental delegation from Canada were joined by Russian governmental officials as well as scientists and experts from a number of prestigious science institutes in Russia to participate in discussions that focused on the biotech and energy sectors, as well as on opportunities for R&D cooperation between Canada and Russia. ISTC presented the services that are available to Canadian companies wishing to engage in R&D development in Russia, and detailed the new $40,000 co-funding initiative that is available to private Canadian companies on beginning their first ISTC project. The event was coorganised by the Embassy of Canada in Russia.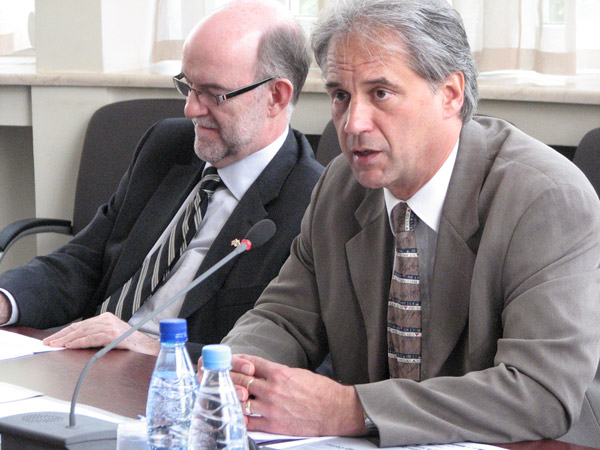 Gilles Breton Deputy Head of Mission, Embassy of Canada (left) and Leo Owsiacki, Deputy Executive Director, ISTC (right)
Power Point presentations given at the even:
Leo Owsiacki, Deputy Executive Director, ISTC download
Alexander Gusev, Head of Division for Innovation Policy and National Innovation System, Russian Institute for Economy, Policy and Law in Science and technology download
Michael Burton, General Manager, Institute for Diagnostic Imaging Research, University of Windsor download
Timoty Murray, Group Manager, Commercialization Support Program, ISTC download
Lev Tocheny, Chief Science Coordinator (nuclear energies), ISTC download
Tatiana Gremyakova, Chief Science Coordinator (biotechnology), ISTC download
The International Science and Technology Center (ISTC) is an intergovernmental organization connecting scientists from Kazakhstan, Armenia, Tajikistan, Kyrgyzstan, and Georgia with their peers and research organizations in the EU, Japan, Republic of Korea, Norway and the United States.
ISTC facilitates international science projects and assists the global scientific and business community to source and engage with CIS and Georgian institutes that develop or possess an excellence of scientific know-how.
Annual Reports
Annual Reports
The electronic version of the 2020 Annual Report
2020 Audited Financial Report
view
Значимы проект
See ISTC's new Promotional video view

Subscribe to our newsletters