ISTC and Parliament Centre hold Counter-Terrorism expert meeting at Russian Duma
10.06.2009
10 June 2009 – Experts, Russian government representatives and embassy representatives met in Moscow to discuss "Civil Counteraction to Terrorism and Organized Crime in the Sphere of High Technologies". The event organized jointly by ISTC and the Parliament Centre was held at the Russian State Duma and at ISTC premises. Participants discussed counter-terrorism issues and more specifically counter-bioterrorism in order to confront common problems related to this subject.
Particular threats to the international community were discussed along with potential methods and technologies to reduce them. Participants gave their support to the new ISTC Initiative "Science and Technology in the Prevention of Biological Threats" which aims to improve global security through an umbrella of various preventive collaborative actions.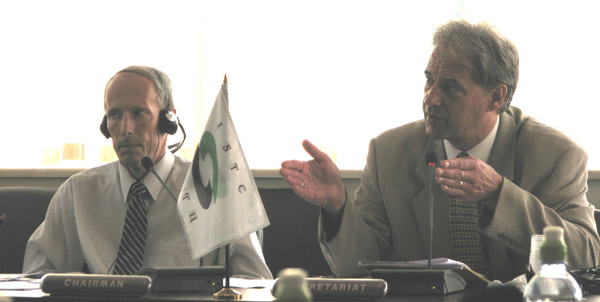 Leo Owsiacki (right), ISTC Canadian Deputy Executive Director, talking at the expert meeting
The International Science and Technology Center (ISTC) is an intergovernmental organization connecting scientists from Kazakhstan, Armenia, Tajikistan, Kyrgyzstan, and Georgia with their peers and research organizations in the EU, Japan, Republic of Korea, Norway and the United States.
ISTC facilitates international science projects and assists the global scientific and business community to source and engage with CIS and Georgian institutes that develop or possess an excellence of scientific know-how.
Annual Reports
Annual Reports
The electronic version of the 2020 Annual Report
2020 Audited Financial Report
view
Значимы проект
See ISTC's new Promotional video view

Subscribe to our newsletters