Hannover Messe, Hydrogen and Fuel Cells Technologies,Germany, 20-24 April
28.04.2009
20-24 April – For a fifth year, ISTC took part in the Hannover Messe, a major international trade fair bringing together business and scientific communities active in the area of fuel cells and hydrogen technologies. ISTC sponsored the participation of 5 Russian scientists from the Boreskov Institute of Catalysis and from VNIIEF who developed a unique hydrogen/natural gas run vehicle in demonstration at the event.
The technology displayed by the Russian team made a strong impression among participants and visitors of the event. "The specificity of the technology lies in the fact that the hydrogen is created on board of the vehicle with a reformer using natural gas. The hydrogen generator is turned on in about 10 seconds, which is the fastest known ignition for such a device. Plus our technology can be installed on any car, any engine, at a low cost, so of course people were interested!", said Viktor Emel'yanov, Fuel Cells Targeted Initiatives Manager at ISTC.
International companies in the car and transportation industries showed particular interest in collaborating with ISTC on this particular technology. Further meetings with the Hannover local government are planned to investigate the possibilities of developing a joint venture program for the regional and national markets.
Up to 6,150 exhibitors from 61 different countries participated in the world's largest showcase for industrial technology. Around 210,000 visitors went to Hannover for the event.
Click here to see technical description of the hydrogen/natural gas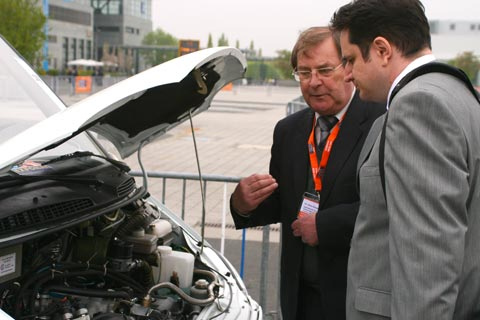 Victor K. Emel'yanov, Ph.D., Associate Professor Targeted Initiative Manager (left) and Peter Eisenschmidt, Project Director Relocation, hannoverimpuls GmbH (right) in front of a vehicle with on-Board Synthesis Gas Generator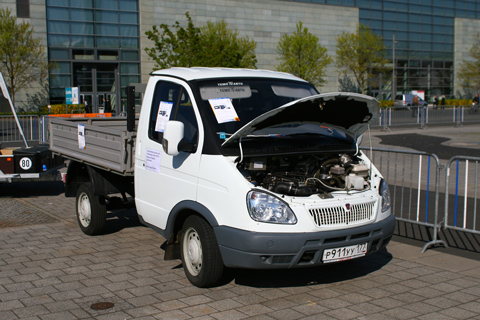 Hydrogen/natural gas propelled vehicle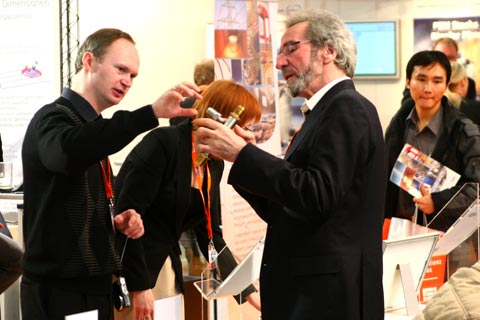 Visitors at the ISTC booth
The International Science and Technology Center (ISTC) is an intergovernmental organization connecting scientists from Kazakhstan, Armenia, Tajikistan, Kyrgyzstan, and Georgia with their peers and research organizations in the EU, Japan, Republic of Korea, Norway and the United States.
ISTC facilitates international science projects and assists the global scientific and business community to source and engage with CIS and Georgian institutes that develop or possess an excellence of scientific know-how.
Annual Reports
Annual Reports
The electronic version of the 2020 Annual Report
2020 Audited Financial Report
view
Значимы проект
See ISTC's new Promotional video view

Subscribe to our newsletters