The 15th Seminar of the ISTC Scientific Advisory Committee (SAC) "Responsible Science in the Global Security Environment: How to Increase Awareness" took place in Yerevan (Armenia) on October 23-24, 2012
06.11.2012
The 15th Seminar of the ISTC Scientific Advisory Committee (SAC) "Responsible Science in the Global Security Environment: How to Increase Awareness" took place in Yerevan (Armenia) on October 23-24, 2012.

The Conference-Hall of the Presidium of the National Academy of Sciences of Armenia was chosen as the Seminar venue.

The Seminar was attended by scientists and experts from the US, European Union, Canada, Japan, CIS and Georgia.

The format of the event was also used to organize lectures for students of the Yerevan educational institutions. Part of the Seminar was dedicated to the Young Scientists Competition which attracted young researchers from CIS states.

The Competition winner was granted an opportunity to attend any international conference at his own choice.

During the opening ceremony the Seminar participants were welcomed by the President of NAN of Armenia Acad. Radik Martirosyan, Chair of the Armenian State Committee on Science Prof. Samvel Haroutyunyan, representatives of the ISTC management. The opening ceremony was also honored by the presence of Ambassadors and representatives of FSU and beyond, involved in the ISTC activities.

The total number of the Seminar participants exceeded 100 people.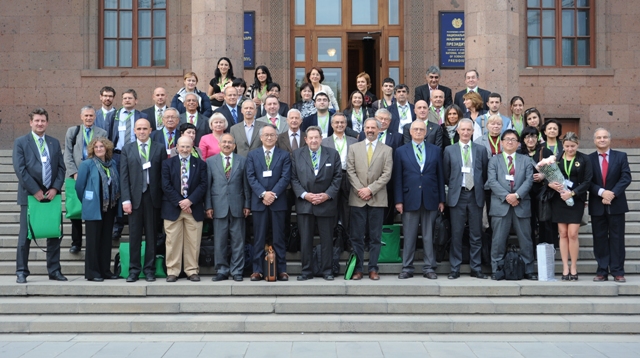 The International Science and Technology Center (ISTC) is an intergovernmental organization connecting scientists from Kazakhstan, Armenia, Tajikistan, Kyrgyzstan, and Georgia with their peers and research organizations in the EU, Japan, Republic of Korea, Norway and the United States.
ISTC facilitates international science projects and assists the global scientific and business community to source and engage with CIS and Georgian institutes that develop or possess an excellence of scientific know-how.
Annual Reports
Annual Reports
The electronic version of the 2020 Annual Report
2020 Audited Financial Report
view
Значимы проект
See ISTC's new Promotional video view

Subscribe to our newsletters