The 1st LETI Workshop titled "National Forensic Databases: Enhancing of Efficiency, Development of Capacities and Possibilities, Exchanging of best Practices and Cooperation between Forensic Institutions, Law Enforcement Agencies" took place in Erevan, Re
31.01.2012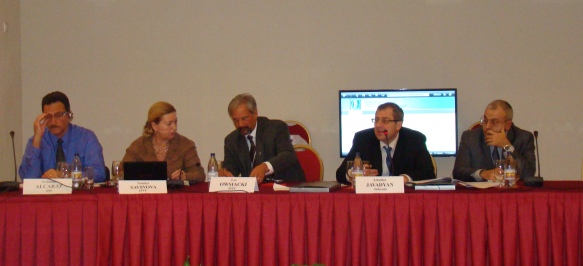 The 1st LETI Workshop titled "National Forensic Databases: Enhancing of Efficiency, Development of Capacities and Possibilities, Exchanging of best Practices and Cooperation between Forensic Institutions, Law Enforcement Agencies" took place in Erevan, Republic of Armenia, on January 16-18, 2012.

The workshop was organized by National Bureau of Expertise of Republic of Armenia and ISTC. 50 participants from CIS countries, including Armenia, Belarus, Kazakhstan, Kyrgyzstan, Russia, Tajikistan, Ukraine, as well as Georgia, United Kingdom, and United States attended the workshop.

This LETI workshop was designed to create a synergy between various forensic laboratories and research institutions from the Commonwealth of Independent States (CIS) and Georgia with the goal of developing, sharing and maintaining forensic databases. The workshop provided a forum to identify and explore the ways for solutions to relevant barriers that may hinder the sharing of forensic databases/information within the collective of LETI participants. The workshop also included training and next steps session to help identify the LETI participants that can provide the leadership to start the forensic databases and help spread the word about the existence of these collaborative tools for law enforcement.

At the opening ceremony Mr. Aghvan Hovsepyan, General Prosecutor of Republic of Armenia, admitted the importance of the event and cooperation in this field. Mr. Radik Martirosyan, President of National Academy of Sciences of Republic of Armenia, and Mr. Leo Owsiacki, Deputy Executive Director of ISTC, emphasized on the role of research institutes to team up with forensic experts for covering their needs.

The Armenian press has declared that such international event in the field of forensic databases took place in the Caucuses for the first time.

ISTC expresses special thanks to the US Department of Energy and Interpol for the great contribution into the workshop organization and realization.
The International Science and Technology Center (ISTC) is an intergovernmental organization connecting scientists from Kazakhstan, Armenia, Tajikistan, Kyrgyzstan, and Georgia with their peers and research organizations in the EU, Japan, Republic of Korea, Norway and the United States.
ISTC facilitates international science projects and assists the global scientific and business community to source and engage with CIS and Georgian institutes that develop or possess an excellence of scientific know-how.
Annual Reports
Annual Reports
The electronic version of the 2020 Annual Report
2020 Audited Financial Report
view
Значимы проект
See ISTC's new Promotional video view

Subscribe to our newsletters