President of the National Academy of Sciences of Armenia Attends the ISTC Workshop 'New Approaches to Science Cooperation'
15.02.2008
The President of the National Academy of Sciences of Armenia, Acad.R.Martirosyan, and the Chairman of the State Committee of Science of the Ministry of Education and Science of Republic of Armenia, Prof.S.Arutunyan, attended the ISTC workshop, 'New Approaches to Science Cooperation and Results of ISTC Activity in Armenia' on 15 February in Yerevan, Armenia.

The Head of the Armenian Branch Office, Dr. Hamlet Navasardyan, noting ISTC's positive role in the development of science in Armenia, presented ISTC's plans for assisting international science cooperation with Armenia to an audience of over 80 attendees which included directors of institutes, leading researchers, government representatives, and the Armenian business community.

Discussions were also held on the Armenian Government's plans to stimulate research, Intellectual Property Right issues, and joint projects between ISTC and its Ukrainian sister organization, the Science and Technology Center in Ukraine (STCU). Further details on the presentations, and on the workshop itself, are available from the ISTC.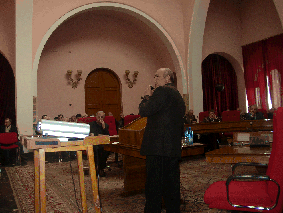 On picture, Dr. Hamlet Navasardyan
The International Science and Technology Center (ISTC) is an intergovernmental organization connecting scientists from Kazakhstan, Armenia, Tajikistan, Kyrgyzstan, and Georgia with their peers and research organizations in the EU, Japan, Republic of Korea, Norway and the United States.
ISTC facilitates international science projects and assists the global scientific and business community to source and engage with CIS and Georgian institutes that develop or possess an excellence of scientific know-how.
Annual Reports
Annual Reports
The electronic version of the 2020 Annual Report
2020 Audited Financial Report
view
Значимы проект
See ISTC's new Promotional video view

Subscribe to our newsletters