The 16th SAC Seminar "ENERGY SECURITY, HOW TO FURTHER THE TECHNOLOGY" was held in Almaty on October 22-23, 2013
06.11.2013
The Scientific Advisory Committee (SAC) of the ISTC organised the Seminar "ENERGY SECURITY, HOW TO FURTHER THE TECHNOLOGY", which was held in Almaty, Kazakhstan on October 22-23, 2013.

Energy is one of the critical components for guaranteeing a smooth running of nations, whatever their state of development, and an efficient operation of business.

The two-day event was focused on how technology could contribute to the fulfillment of the general objective of energy security, more particularly in ISTC countries, be they net energy producers or consumers.

The Seminar covered most of the areas of concern in terms of energy security e.g.:
The ramping up of renewables as a local resource, linked to local geographical and social conditions
The extension of the range of hydropower to local, low level production
The role of geothermal energy for electricity production but also for domestic heating (and biofuel production)
The future of hydrogen as energy storage boosted by development of renewables e.g. hydropower, solar photo-voltaics and wind
The hesitation about wave energy utilization.
The impact of energy choices on electricity generation and distribution: smart grids, decentralization of networks up to the level of groups of buildings, driving forces for moving in this direction are technological and economical considerations as well as risk management etc.
A lot of opportunities are still unfolding for new energy technologies. The SAC expressed their hope that this seminar will act as a stimulant for their development and contribute to their implementation.

The SAC also expressed its appreciation to the ISTC staff for an excellent organization and a smooth running of the event.

To download the Presentations please click below:
The list of presentations Download
Opening session Download
Session 1 Download
Session 2 Download
Session 3 Download
Session 4 Download
Conclusion Download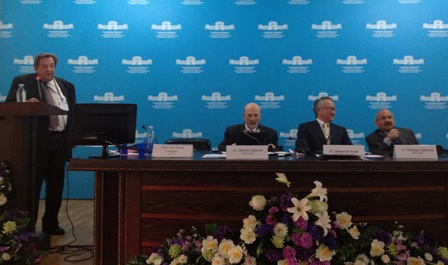 The International Science and Technology Center (ISTC) is an intergovernmental organization connecting scientists from Kazakhstan, Armenia, Tajikistan, Kyrgyzstan, and Georgia with their peers and research organizations in the EU, Japan, Republic of Korea, Norway and the United States.
ISTC facilitates international science projects and assists the global scientific and business community to source and engage with CIS and Georgian institutes that develop or possess an excellence of scientific know-how.
Annual Reports
Annual Reports
The electronic version of the 2020 Annual Report
2020 Audited Financial Report
view
Значимы проект
See ISTC's new Promotional video view

Subscribe to our newsletters