The ISTC sponsored workshop "U.S. Central Asia Workshop on Biodiversity and Climate Change: Integrating Biodiversity of Natural Heritage with Sustainable Utilization in Central Asia" was held at Nazarbayev University on April 15 to 17, 2015
22.05.2015
Central Asia possesses an important and unique biological diversity. It is the origin of important domesticated crops and animals, including the apple and the horse. Moreover, the region's endemic plants and microorganisms have not been fully examined for potential biomedical uses. The Climate Change report of the Intergovernmental Panel on Climate Change highlights that changing land use and land cover, soil and water/air pollution, urban development, habitat fragmentation, selective exploitation of species, the introduction of non-active species and stratospheric ozone depletion are the consequences of human activities. It is now well recognized that such activities affect the biodiversity. Impending climate changes in the Central Asia pose serious threat to the biodiversity in the region and there is urgent need to document, preserve and develop a sustainability plan for the natural resources of the region.

The workshop on Biodiversity and Climate Change, planned with participation of Kazakhstan and regional Governments and Non-Governmental Organizations, was a first step in developing botany and microbial diversity repositories, with possible expansion to animal and zoonotic diseases.
United States Partners included the National Institutes of Health (NIH), National Cancer Institute; NIH, National Institute of Allergy and Infectious Diseases and the U.S. Geological Survey.
Kazakhstan Partners included the Ministry of Education and Science, the National Center for Biotechnology and Nazarbayev University.
There were numerous other U.S. and Kazakhstan participating Institutions and Agencies.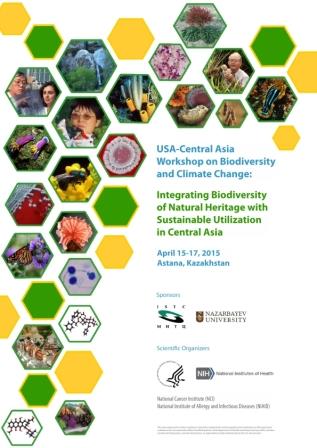 Booklet for Participants (Download)
The International Science and Technology Center (ISTC) is an intergovernmental organization connecting scientists from Kazakhstan, Armenia, Tajikistan, Kyrgyzstan, and Georgia with their peers and research organizations in the EU, Japan, Republic of Korea, Norway and the United States.
ISTC facilitates international science projects and assists the global scientific and business community to source and engage with CIS and Georgian institutes that develop or possess an excellence of scientific know-how.
Annual Reports
Annual Reports
The electronic version of the 2020 Annual Report
2020 Audited Financial Report
view
Значимы проект
See ISTC's new Promotional video view

Subscribe to our newsletters