SAIIA Publishes an Occasional Paper Synchronising Nuclear Governance in SADC Member States Through Regional Cooperation
01.11.2021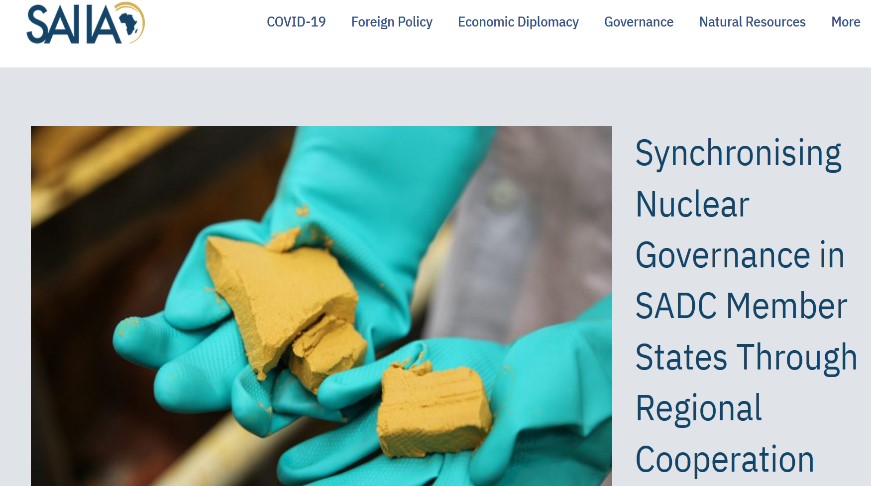 On 29 October the South African Institute of International Affairs (SAIIA) it published Synchronising Nuclear Governance in SADC Member States Through Regional Cooperation, authored by Kamen Velichkov, ISTC SPM and DA. The Paper is based on findings, acquired throughout the implementation of the EU-funded Project MC 5.01 15B Support to the Southern African states in Nuclear Safety and safeguards.
The South African Institute of International Affairs (SAIIA) is an independent public policy think tank advancing a well-governed, peaceful, economically sustainable and globally engaged Africa. The institute is organised under research programmes spanning economic diplomacy; governance and foreign policy; as well as natural resource governance in Africa. Some Projects, such as Atoms for Development, funded by the ISTC State Party Norway, aim to strengthen African nuclear governance to support the peaceful application of nuclear technology for Africa's development.
Amongst other publications SAIIA issues Occasional Papers as pieces of analytical work exploring particular issues. The focus of these papers is not overtly policy-related, although policymakers may find the detail useful.
The SADC occasional paper may be found at: https://saiia.org.za/research/synchronising-nuclear-governance-in-sadc-member-states-through-regional-cooperation/
The International Science and Technology Center (ISTC) is an intergovernmental organization connecting scientists from Kazakhstan, Armenia, Tajikistan, Kyrgyzstan, and Georgia with their peers and research organizations in the EU, Japan, Republic of Korea, Norway and the United States.
ISTC facilitates international science projects and assists the global scientific and business community to source and engage with CIS and Georgian institutes that develop or possess an excellence of scientific know-how.
Annual Reports
Annual Reports
The electronic version of the 2020 Annual Report
2020 Audited Financial Report
view
Значимы проект
See ISTC's new Promotional video view

Subscribe to our newsletters