ISTC supports training on PCR-diagnostic of infectious diseases including COVID-19
13.01.2021
ISTC supports training on PCR-diagnostic of infectious diseases including COVID-19
An international training course on the topic "PCR diagnostics of infectious diseases, including COVID-19" was organized with the financial support of the International Science and Technology Center (ISTC) from November 30, 2020 to January 8, 2021. The course organizers were the molecular-genetic laboratory of the Issyk-Kul State University named after K. Tynystanov (Kyrgyzstan) and Kazakh Medical University of Continuing Education (Kazakhstan). The aim of the course was to enhance theoretical and practical skills of Polymerase Chain Reaction (PCR) - method for diagnosing infectious diseases, including aspects of epidemiology, biosafety, in-laboratory quality control, equipment and planning of PCR-laboratory, genetic basis of PCR and isolation of DNA/RNA, amplification of target gene and its identification. The target audience of the course was for laboratory doctors, epidemiologists, veterinarians (35%), laboratory assistants and technicians (20%), students of medical colleges and universities studying in the specialty "Laboratory diagnostics" (4%), scientific staff of virology and bacteriology laboratories (18 %), teachers of medical universities (23%). The course was conducted with 9 lecturers, including professors, doctors of medical and biological sciences, associate professors, laboratory doctors.
Due to the large amount of participants. the course was conducted in 3 parts. The first part was conducted from November 30 to December 10, 2020. Course participants were from Naryn and Issyk-Kul State Sanitary and Epidemiological Service, At-Bashi and Issyk-Kul Plague Control Departments, Veterinary Service of Issyk-Kul, Osh regions, Kyrgyz National University, Institute of Biotechnology, total number of participants were 56. The second part from December 2 to December 22, 2020, conducted with Kazakhstan, with audiences from Polyclinics, hospitals, Medical universities (KMU "VSHOZ", NAO MUS, NAO KazNMU named after S.D. Asfendiyarov, NAO MUK, Karaganda, NAO Medical University of Semey, KazMUNO, ZKMU named after M. Ospanova, total of 48 participants. The third part from December 14-26, 2020, conducted with audiences from Azerbaijan, Tajikistan, Uzbekistan, Belarus, Ukraine, the participants which were working in The Veterinary Research Institute, Institute of Preventive Medicine, National Reference Laboratory, Grodno Medical University. A total 39 participants.
The course was devided into 2 parts. The theoretical part in the online format was conducted by teachers of KazMUCE (Kazakhstan) (Professor Amireev S. A., Professor Ryskulova A.R., c.m.s., Utepova I.B., c.m.s.., Maimakova A.M., c.m.s., Nurakhova A.D.). In order to disseminate the results on theoretical part, a section was created on the website of KazMUCE, where information on this conference was posted daily (http://www.kazmuno.kz/ru/novyy-razdel-1/proekta-po-ptsr-diagnostike/). As well as, information about the theoretical part was also posted on instagram of KazMUCE (https://www.instagram.com/kazmuno_agiuv) and as a result of the seminar, an article was prepared, which is planned for publication in journals recommended by the Committee for Control in the Field of Education and Science of the Ministry of Education and Science of the Republic of Kazakhstan. And the practical part in real time regime was carried out by the teachers of IKSU (Aitbaeva Zh.T. and epidemiologist Banysheva Z.A.) and on online format by assistant professor Sariyeva G.E. and professor Khegai S.V. For practical training were used such methodological techniques as solving situational problems, watching and analyzing videos, tests on different topics and their analysis. 37 people included doctors and laboratory assistants of the Naryn and Issyk-Kul region, students of the Naryn Medical College and employees of the Institute of Biotechnology (Kyrgyzstan) underwent practical training in the skills of DNA extraction from biomaterial and amplification in the IKSU molecular-genetic laboratory. Information about the course was broadcasted on local television by Issyk-Kul TV, on official site of IKSU on Facebook (https://www.facebook.com/iksu.kg/posts/2944521212445513/ ), in the Kut-Bilim newspaper, in the Association of Medical Colleges of the Ministry of Health Kyrgyz Republic. At the end of the course, all participants were issued an international certificate.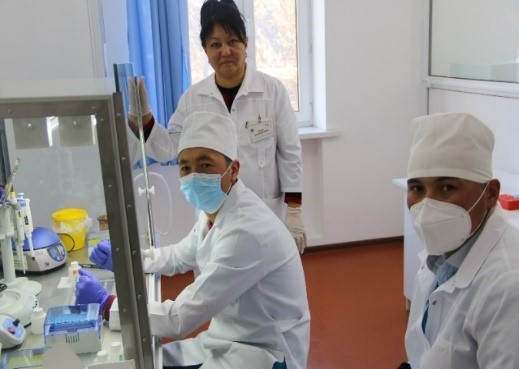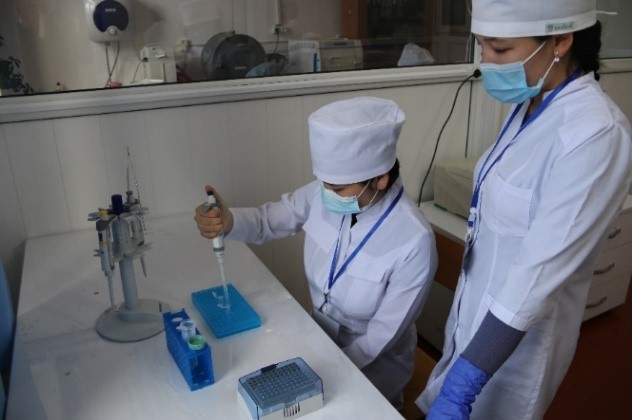 The International Science and Technology Center (ISTC) is an intergovernmental organization connecting scientists from Kazakhstan, Armenia, Tajikistan, Kyrgyzstan, and Georgia with their peers and research organizations in the EU, Japan, Republic of Korea, Norway and the United States.
ISTC facilitates international science projects and assists the global scientific and business community to source and engage with CIS and Georgian institutes that develop or possess an excellence of scientific know-how.
Annual Reports
Annual Reports
The electronic version of the 2019 Annual Report
2019 Audited Financial Report
view
Значимы проект
See ISTC's new Promotional video view

Subscribe to our newsletters