ISTC Meets with DTRA & DOE US Embassy to Kazakhstan Representatives
04.03.2020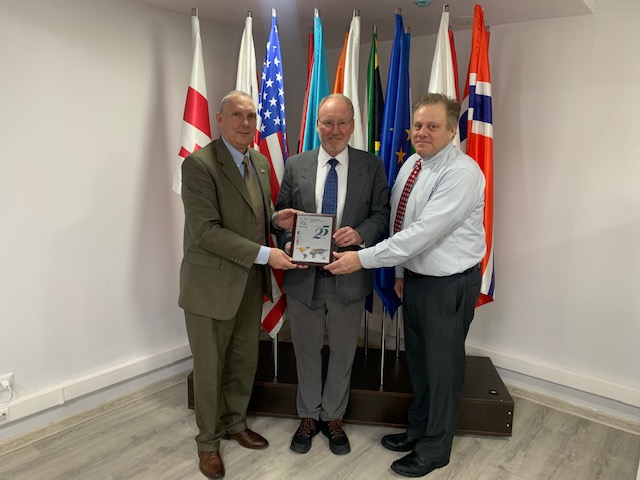 On Wednesday 26th February 2020 Executive Director and selected ISTC staff met with US Embassy to Kazakhstan US Department of Energy (DOE NNSA) Representative Nicholas Carlson & US Defence Threat Reduction Agency ( DTRA) Representative Steven Calder to brief and discuss ISTC's relevant past and current projects and also future cooperation in the region, as well as ISTC's expansion and activities in non-ISTC Countries.
Since the USA is a founding funding member of ISTC and in recognition of the ISTC's joint activities with both DOE ISTC Executive Director David Cleave presented the US Embassy Representatives with ISTC's 25th Anniversary Plaque as a token and recognition of the close relationship,collaboration and activities between ISTC and the US Government Partners.
The International Science and Technology Center (ISTC) is an intergovernmental organization connecting scientists from Kazakhstan, Armenia, Tajikistan, Kyrgyzstan, and Georgia with their peers and research organizations in the EU, Japan, Republic of Korea, Norway and the United States.
ISTC facilitates international science projects and assists the global scientific and business community to source and engage with CIS and Georgian institutes that develop or possess an excellence of scientific know-how.
Annual Reports
Annual Reports
The electronic version of the 2020 Annual Report
2020 Audited Financial Report
view
Значимы проект
See ISTC's new Promotional video view

Subscribe to our newsletters