ISTC and the Norwegian Radiation and Nuclear Safety Authority Work Together and in Parallel
07.11.2019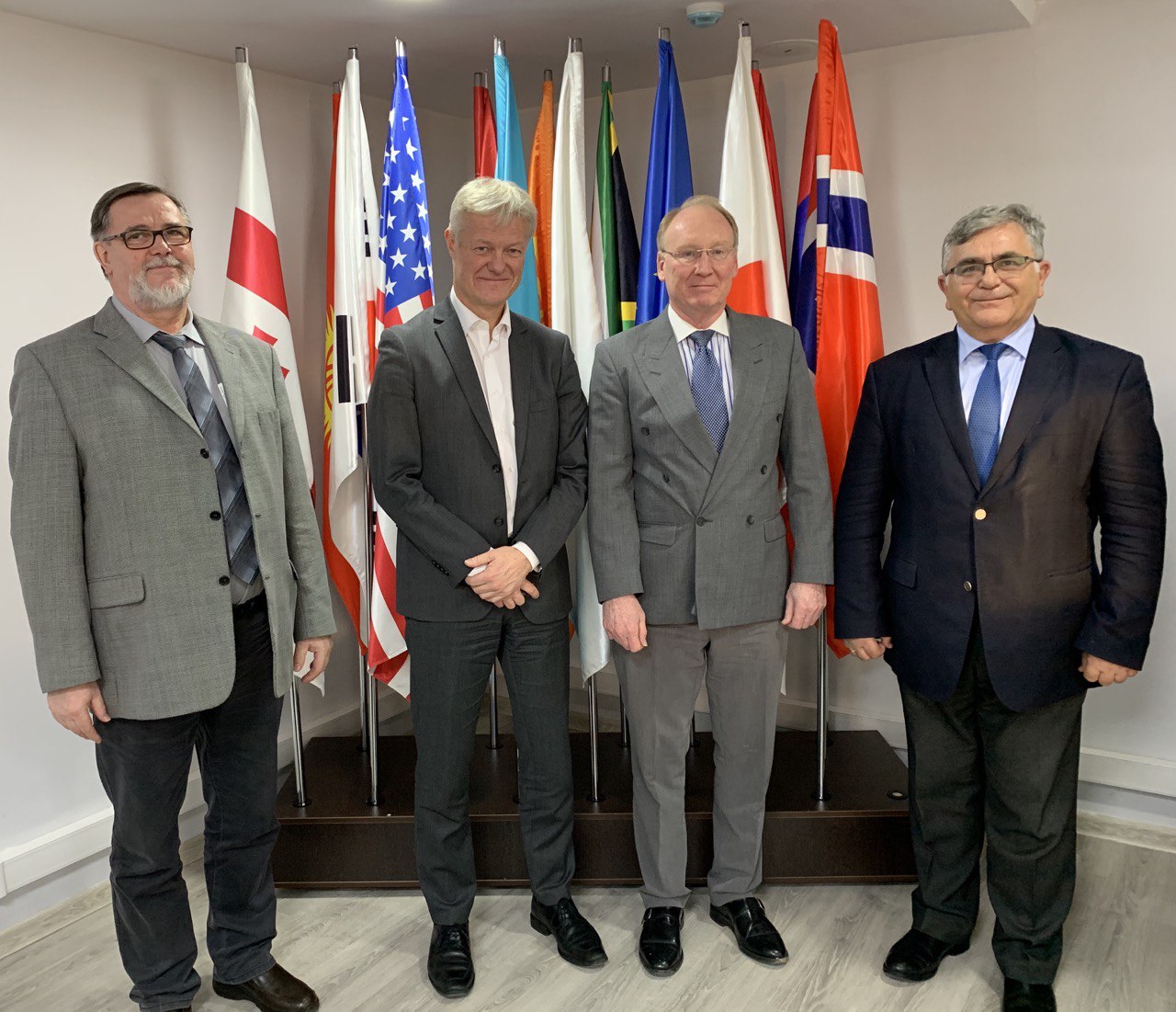 Mr. Ingar Amundsen, the Head of Section International Nuclear Safety, Norwegian Radiation and Nuclear Safety Authority, who is also a representative of Norway on the ISTC Governing Board, visited the ISTC Secretariat in Nur Sultan on 7 November 2019. He discussed with the ISTC Executive Director David Cleave the state of the bilateral cooperation and the prospects of it.
Norwegian Radiation and Nuclear Safety Authority (DSA) is the national authority and expert body in matters concerning nuclear security, radiation use, natural radiation and radioactive contamination in the environment. DSA carries out assignments on behalf of the Ministry of Health and Care Services, the Ministry of Foreign Affairs and the Ministry of Climate and Environment. Mr. Amudsen was in Sultan as a member of a Norwegian MFA delegation that was on tour Kazakhstan, Uzbekistan and Kyrgyzstan.
Executive Director David Cleave thanked the Norwegian government for the staunch support to ISTC and effective participation in the Organization's activities. Most of the projects ISTC and DSA implement together are regional in nature, such as the recently launched multilateral Project Legal Acts for Supervision over Remediation Activities of Radioactively Contaminated Territories. The two interlocutors paid special attention also to the EU regional program for water treatment that seeks to encourage regional harmonization of the legal frameworks and policies.
In addition to its national mandate for safety, security, and safeguarding, DSA have international tasks related to promoting radiation protection, nuclear security, nuclear safety, disarmament and non-proliferation. Projects abroad are often carried out through MFA sponsored program, such as the Project in South Africa titled Atoms for Development. Working with the South African Institute of International Affairs (SAIIA) Norway funds a new three-year project on the peaceful use of nuclear technology in advancing development in Africa. In turn ISTC implements the EU - funded Project Support to the Southern African States in Nuclear safety and Safeguards. While sticking to their own set of objectives, the managers of both projects managed to interact, to participate in each other's public affairs activities and to seek synergies.
Two ISTC Senior Program Managers – Kamen Velichkov and Burkhard Endrullat – also participated in the meeting with the Norwegian expert.
The International Science and Technology Center (ISTC) is an intergovernmental organization connecting scientists from Kazakhstan, Armenia, Tajikistan, Kyrgyzstan, and Georgia with their peers and research organizations in the EU, Japan, Republic of Korea, Norway and the United States.
ISTC facilitates international science projects and assists the global scientific and business community to source and engage with CIS and Georgian institutes that develop or possess an excellence of scientific know-how.
Annual Reports
Annual Reports
The electronic version of the 2020 Annual Report
2020 Audited Financial Report
view
Значимы проект
See ISTC's new Promotional video view

Subscribe to our newsletters