EU Experts in Navigation Satellite Systems Visit ISTC Main Office
11.11.2019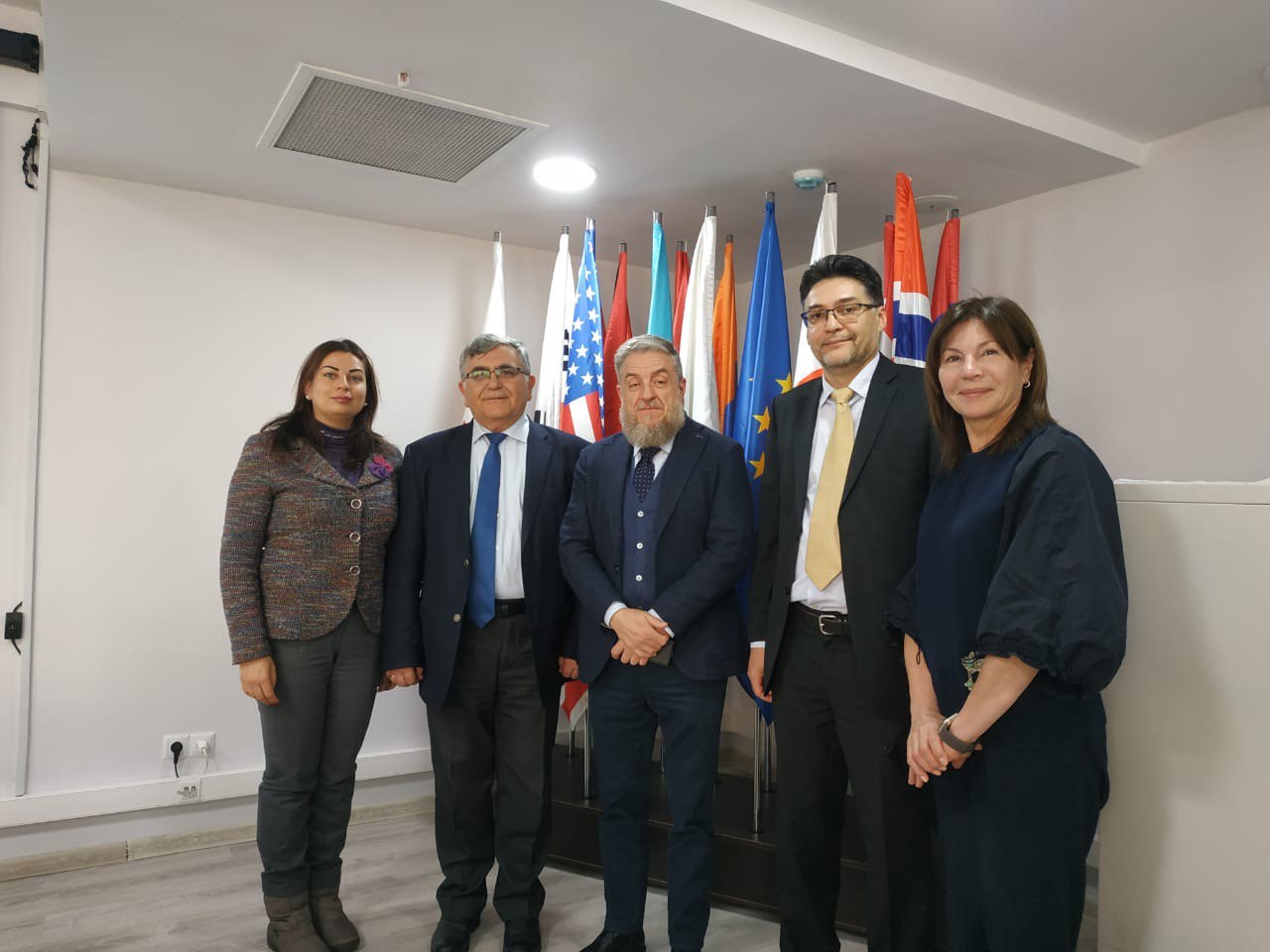 On 11 November 2019 European experts from the EC Directorate General for Internal Market, Industry, Entrepreneurship and SMEs (DG GROW) visited the ISTC Headquarters in Nur Sultan. The team of EC officials are working with the European Global Navigation Satellite Systems (Galileo and European Geostationary Navigation Overlay System - EGNOS).
In the discussion that ensued the EU experts were debriefed on the current ISTC transition, priorities and the experience accumulated through cooperation with hundreds of institutes and thousands of scientists and researchers in the course of a quarter of a century. They were also informed about specific ISTC-implemented projects that use satellite images such as the Project on the Assessment of Water and Land Resources in Small Transboundary Tributaries of Amu Darya River Basin using Earth Observation. As the guests belong to the management of the biggest EU Research and Innovation programme Horizon 2020 the discussion touched upon the vivid interest among the scientific community in Central Asian and other ISTC countries to participate in teams of researchers alongside with their European colleagues. This tendency will be preserved after Horizon 2020 will be substituted next year by a new EU multiannual program for science, research and innovations.
The EU specialists informed about Galileo, the EU global navigation satellite system, that provides high-precision positioning data, has reliable authentication and high accuracy (up to 20 cm). Galileo has also a new global search and rescue (SAR) function Galileo provides a new global search and rescue function through the COSPAS – SARSAT System. Galileo is capable to minimalize the localisation to 10 minutes and 2 km, from the usual 4 hours and 10 km. The data from the Galileo has numerous applications in cadastre, mapping, mining, infrastructure monitoring, marine surveying, etc.
The group of EU visitors included Mr Augusto Gonzalez, Adviser for EU Satellite Navigation Programmes, DG GROW; Dr Pavlina Nikolova, International Relations Officer, Galileo and EGNOS; and Mr Ramunas Janusauskas, Head of Trade Section, EU Delegation to Kazakhstan. From the ISTC side Kamen Velichkov, SPM and DA, Sonya Vekstein, CFO, and Amina Bimagambetova, PO, took part in the meeting.
The International Science and Technology Center (ISTC) is an intergovernmental organization connecting scientists from Kazakhstan, Armenia, Tajikistan, Kyrgyzstan, and Georgia with their peers and research organizations in the EU, Japan, Republic of Korea, Norway and the United States.
ISTC facilitates international science projects and assists the global scientific and business community to source and engage with CIS and Georgian institutes that develop or possess an excellence of scientific know-how.
Annual Reports
Annual Reports
The electronic version of the 2020 Annual Report
2020 Audited Financial Report
view
Значимы проект
See ISTC's new Promotional video view

Subscribe to our newsletters