The Ambassadors of Kuwait and of Saudi Arabia visit ISTC the Secretariat
22.11.2018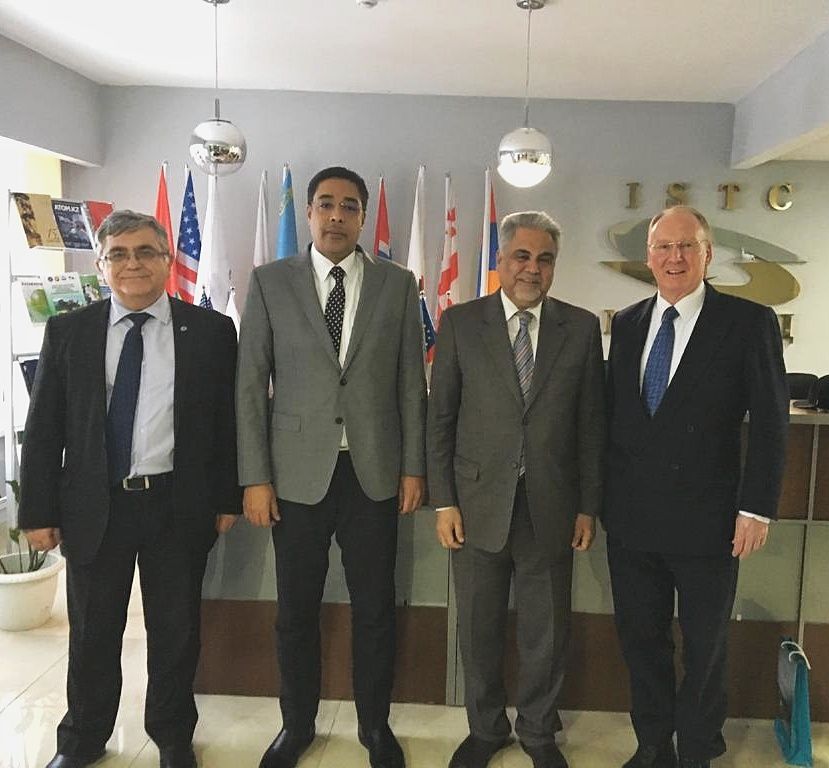 On 22 November 2018 H.E. Mr. Tareq Abdullah Alfaraj, Ambassador of Kuwait to Kazakhstan, and H.E. Dr. Dareh Mutish Alenaze, Ambassador of Saudi Arabia to Kazakhstan, visited the ISTC Main Office to discuss with ISCT Executive Director David Cleave matters pertaining to cooperation with ISTC on bilateral and regional basis, within the Gulf Cooperation Council (GCC).
The meeting took place on invitation by ISTC as a continuation of the dialogue with the two Embassies on topics of mutual interest. The ambassadors received a debrief on the ISTC transition and new partnerships, as well as on the recent working visit of the ISTC Executive Director and the Governing Board Chairman to Kuwait and the UAE, in the course of which a Round Table took place with the states participating in the EU CBRN GCC Center of Excellence. The organization of the upcoming Table Top exercise on radiation emergency preparedness Falcon II in the Gulf countries came into scrutiny, as well as the ISTC organized similar exercise Sunkar for Central Asia. The interest towards collaboration with ISTC of the Kuwait Fire Service was noted, as well as the possibilities arising from the activities of the Gulf Crises Management Center in Kuwait City.
The Ambassadors thanked for the introductory visit to ISTC Secretariat and confirmed the favorable attitude of their respective Embassies towards bilateral and regional cooperation with INSC.
The International Science and Technology Center (ISTC) is an intergovernmental organization connecting scientists from Kazakhstan, Armenia, Tajikistan, Kyrgyzstan, and Georgia with their peers and research organizations in the EU, Japan, Republic of Korea, Norway and the United States.
ISTC facilitates international science projects and assists the global scientific and business community to source and engage with CIS and Georgian institutes that develop or possess an excellence of scientific know-how.
Annual Reports
Annual Reports
The electronic version of the 2020 Annual Report
2020 Audited Financial Report
view
Значимы проект
See ISTC's new Promotional video view

Subscribe to our newsletters