ISTC Special Day in the framework of the International Exhibition "Astana EXPO-2017"
28.06.2017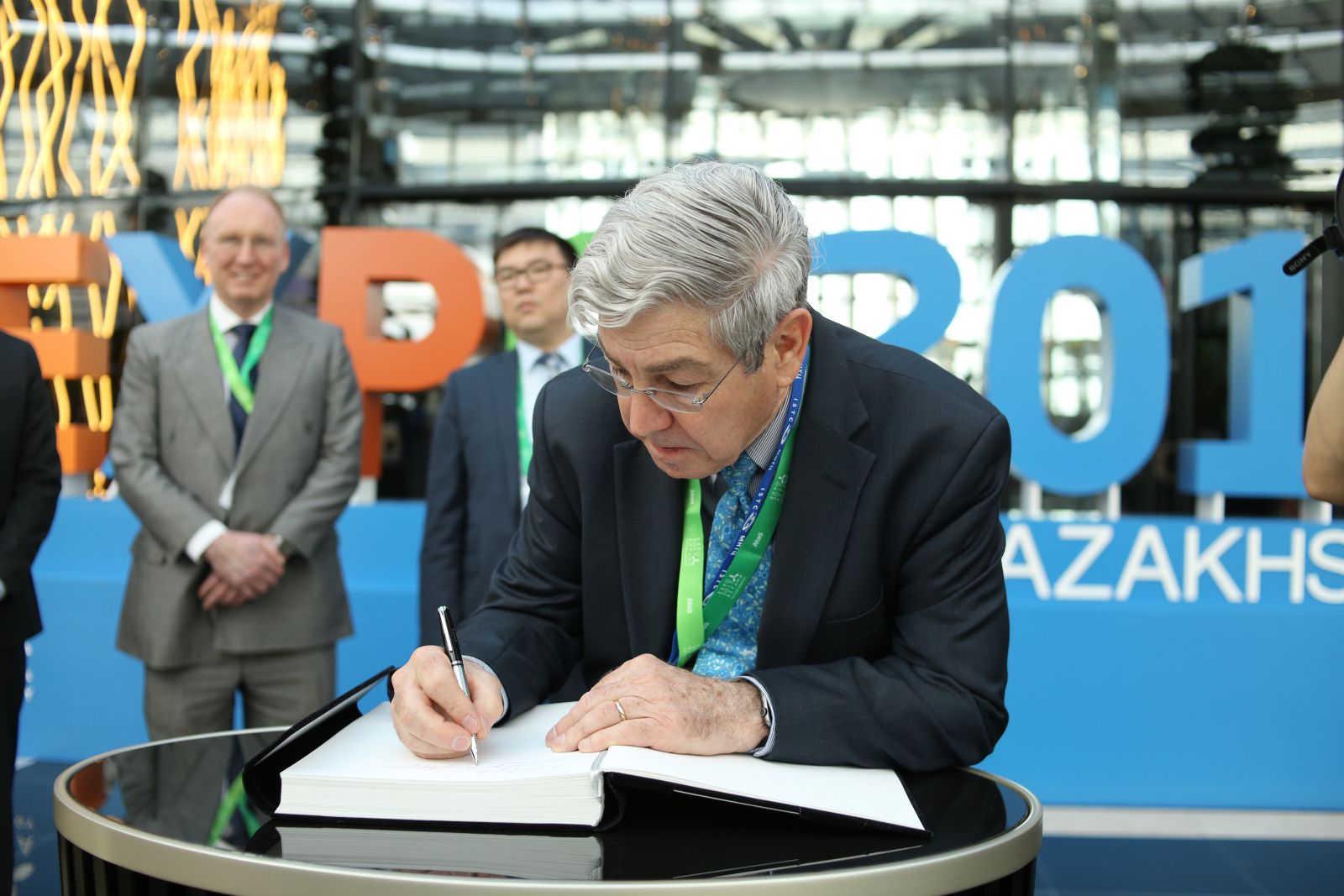 On June 14, 2017 the International Science and Technology Center (ISTC) held its Special Day event dedicated to the theme "Future Energy and Technologies" on the sidelines of the International Specialized Exhibition Astana EXPO 2017.
ISTC facilitates the implementation of international scientific projects, helps the global scientific and business community to find and engage the institutions of the CIS countries and Georgia that have unique scientific know-how for joint development and business. The event presented the results of work and achievements of ISTC in the field of sustainable development, as well as discussed global trends and prospects for the development of technologies and energy systems of the future.
The conference was held in the conference hall of the Nazarbayev University Graduate School of Business. More than 200 participants from public agencies and organizations, representatives of foreign embassies, leaders and employees of ISTC partner organizations attended the event.
The conference was commenced by welcome speeches by Mr. David Cleave – Executive Director of ISTC in Astana, Mr. Aslanbek Amrin – Vice Minister of Education and Science of the Republic of Kazakhstan, Dr. Ronald F. Lehman II – ISTC Governing Board Chairman, Mr. John Mark Pommersheim – representative of the Embassy of the United State of America, Mr. Peter Burian is the current EU Special Representative for Central Asia and Mr. Ichiro Kawabata – Ambassador of Japan to the Republic of Kazakhstan.
In the course of three sessions, presentations were made by representatives of ISTC partner organizations, renowned scientists, representatives of international organizations. Among them were: Dr. Chung Rae Kwon – contributor to the award of IPCC Nobel Peace Prize 2007, Dr. Shri Prakash – representative of The Energy and Resources Institute (TERI), Mrs. Sabina Griffith – representative from International Thermonuclear Experimental Reactor (ITER) and Mr. Colin Rhys – Creative Director of Hyperloop One. The audience was able to participate in the discussion by asking questions and providing comments after the presentations of speakers.
During the ISTC Special Day the VIP delegation of ISTC and Kazakhstan have participated at the official ceremony of raising the flags of ISTC and Kazakhstan as well as at the official signing of the EXPO memorial book.
The event was concluded with a visit to International Specialized Exhibition EXPO 2017 and a gala reception in the atrium of Nazarbayev University.
The International Science and Technology Center (ISTC) is an intergovernmental organization connecting scientists from Kazakhstan, Armenia, Tajikistan, Kyrgyzstan, and Georgia with their peers and research organizations in the EU, Japan, Republic of Korea, Norway and the United States.
ISTC facilitates international science projects and assists the global scientific and business community to source and engage with CIS and Georgian institutes that develop or possess an excellence of scientific know-how.
Annual Reports
Annual Reports
The electronic version of the 2020 Annual Report
2020 Audited Financial Report
view
Значимы проект
See ISTC's new Promotional video view

Subscribe to our newsletters