International Conference «Model of Interaction between International Organizations and Business Partners to Introduce New Technologies to Global Markets», Moscow, April 14, 2010
14.04.2010
April 14, 2010 – ISTC, in collaboration with the International Congress of Industrialists and Entrepreneurs (ICIE), organized the international conference «Model of Interaction between International Organizations and Business Partners to Introduce New Technologies to Global Markets». Representatives of the Russian genvernment, international organizations, national associations and business communities of Azerbaijan, Armenia, Belarus, Bulgaria, Germany, European Union, India, Italy, Kazakhstan, Kyrgyzstan, Latvia, Lithuania, Moldova, Russia, Ukraine, Estonia and Japan participated in the event.

ISTC Executive Director Adriaan van der Meer gave a speech at the Conference, as well as the ISTC Principal Deputy Executive Director Sergey Vorobiev presented a report about the creation, together with the ICIE, of the Partner Foundation for Assistance in Commercialization of New Technologies and its commercial structures.

Discussing the reports the following participants made their statements: President of the Russian Oil- and Gas Industrialists' Union G.I. Shmal, Chairman of the Confederation of Employers of the Republic of Kazakhstan K.K. Baykenov, Head of the Association of European Business in Russia F. Shauff, Adviser of the German Embassy, Head of the Department for Science, Education, Environmental Protection and Nuclear Energy K. Heinz, ICIE Vice President, Director General of ОАО «EKOS» G.N. Egorov, Vice-President of the Ukranian Union of the Industrialists and Entrepreneurs Blavdzevich, ICIE Vice-President, Chairman of the Board of the company group «Regional Credit» I.Yu. Shpurov, Director General of ООО «Joint Center for Research and Development» S.A. Alkhimov, Director of ООО «Project Process Club» D.V. Lyubomudrov and other participants.

Participants who made their statements approved the approaches developed by the ISTC and the ICIE related to the creation of an efficient mechanism of technology commercialization support and demonstrated their interest in implementation of the project.

The Conference exhibited achievements of small and average sized innovation companies, as a vivid example it showed successes and problems of scientists and developers – enthusiasts developing innovations. The following organizations and companies participated in the Conference: Research publication «New Economics. Innovation Portrait of Russia»; ZAO «Engineering Center of Fire Fighting Robotics «EFER»; ООО «InnovaTech» (MSU); ООО «GlobalTest», Sarov; TRINITI; High Power Battery Systems, Sarov; NanoMet Ltd, Ufa; ZAO «INFORMAP»; FSUE Central Research Institute "Center"; Science and Technology Center «ТАТА», Sarov.

Based on the results of the Conference a working group will be created to finalize the considered initiative and to prepare the establishment of a Partner Foundation for Assistance in Commercialization of New Technologies.

We invite all the interested enterprises, companies and organizations to participate in the activities of the working group and Foundation establishment.

Applications to participate are to be sent to the ISTC and the ICIE.
Adriaan Van der Meer Speech (download)
Technology Transfer Document (download)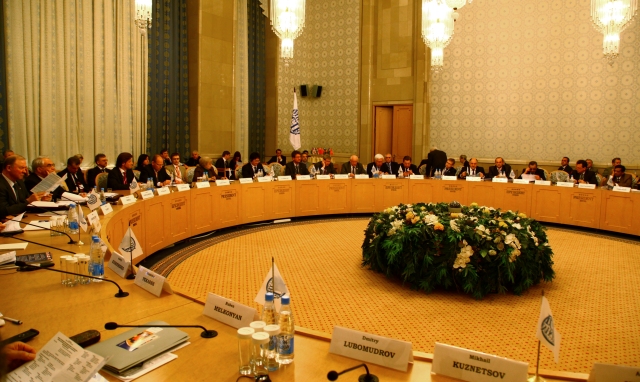 Annual Reports
Annual Reports
The electronic version of the 2018 Annual Report
2018 Audited Financial Report
view
Значимы проект
See ISTC's new Promotional video view

Subscribe to our newsletters