ISTC Furthers Nuclear Collaboration at FISA 2009, Prague
25.06.2009
June 22-26, 2009 - ISTC participated in the FISA workshop, a meeting on novel tendencies in the field of nuclear technology, physics and related areas organized every 2-3 years by the European Commission and Euratom. In the frame of the event, ISTC organized its biannual EU Presidency Seminar consisting in presentations and meetings between EU and Russian/CIS experts.
The ISTC delegation consisted of 12 scientists from Russia, one scientist from Armenia and one from Kazakhstan. They took part in the plenary sessions of 22-24 June with posters presentation and in post-FISA topical seminars. On June 23rdan evening seminar and a reception were organized to present both STCU and ISTC capabilities.
On June 25th the ISTC/STCU delegation took part in post-FISA topical seminars on:
- Synergy in Fusion and Fission Researches;
- Education and Training in the area of Nuclear / Energy Technologies;
- International Collaboration with Non-EU Countries (a presentation was made by A. Gozal about ISTC achievements in the nuclear field in the last years and the advantages of becoming an ISTC partner).
On June 26th a technical visit to Czech nuclear facilities in Rež was arranged for the ISTC/STCU delegates.
The 3rd meeting on Euratom/Rosatom cooperation was also held on the same day.
Contact person:
Albert Gozal
Project and Promotion Manager
Email: gozal@istc.ru
All electronic materials presented at FISA2009 can be accessed here: Download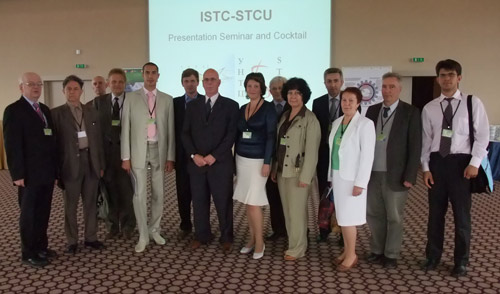 ISTC delegation at the event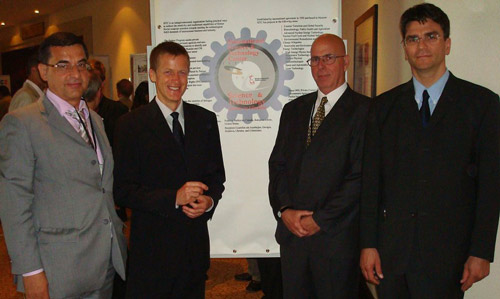 From left to right: W.Gudowsky, ISTC Deputy Executive Director, Z. STANCIC, Deputy Director General DG RTD, A.GOZAL, ISTC, and M. ZAYET, STCU
Annual Reports
Annual Reports
The electronic version of the 2018 Annual Report
2018 Audited Financial Report
view
Значимы проект
See ISTC's new Promotional video view

Subscribe to our newsletters