US Graham Commission Visits ISTC
23.09.2008
Deputy Executive Director Leo Owsiacki met with representatives of the USA Commission on the Prevention of WMD Proliferation & Terrorism at ISTC headquarters in Moscow on September 23, 2008. The Head of the delegation and Chairman, Senator Bob Graham was accompanied by 8 Commission members including Congressman Tim Roemer, Ambassador Wendy Sherman,and other senior officials.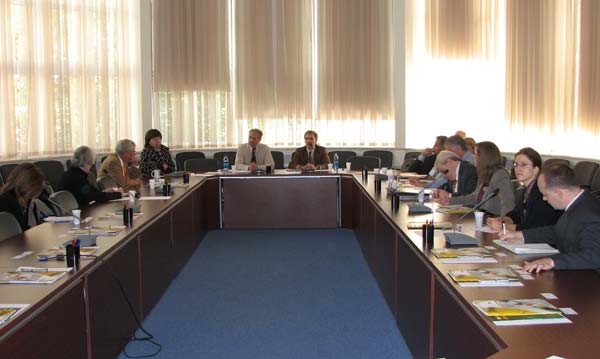 On the picture: DED L.Owsiacki (center) flanked by Acting DED T.Murray (right) & Snr.Science Coordinator T.Gremyakova (left) addressing the Graham Commission
The Commission was gathering information to include as part of a report of recommendations for future US funding of counter proliferation activities for the next Presidential Administration. Their interest focused on ISTC activities in the areas of biological sciences and commercialization support as well as its' views with respect to what and where proliferation concerns may still remain.
Annual Reports
Annual Reports
The electronic version of the 2018 Annual Report
2018 Audited Financial Report
view
Значимы проект
See ISTC's new Promotional video view

Subscribe to our newsletters