The ISTC signs 'Agreement on Future Cooperation' with Russian nuclear institute VNIITF
23.09.2008
A meeting took place on 23 September in Snezhinsk between representatives of ISTC and senior directors of the Russian Federal Nuclear Center – All Russian Scientific Research Institute of Technical Physics (RFNC - VNIITF).

The meeting resulted in a signed agreement for future cooperation in the Russian nuclear sector and other related areas. Future cooperation will focus on:
High energy density physics (collaboration with CERN, Switzerland);
Nuclear safety assurance at the operating commercial reactors; study of novel structural materials to extend the service life of commercial reactors; nuclear waste management and disposal;
Nuclear medicine – in line with a widely discussed project to establish a networking of Federal Nuclear Medicine Centers, one of which to be constructed in Snezhinsk;
Light-emitting diodes to ensure efficiency of lighting equipment and commercial lasers, including for medical application;
Design and commercial production of equipment for detection of explosives and fissionable materials to be installed at state borders;
New materials for nuclear power;
Simulation of material properties using molecular dynamics technique.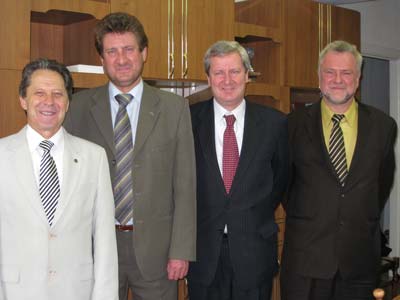 On the picture from the left: Boris Vodolaga (Deputy Executive Director VNIITF), Sergey Vorobiev (Principal Deputy Executive Director, ISTC), Adriaan van der Meer (Executive Director, ISTC), Igor Zakharchenko (Senior Coordinator, ISTC)
During the meeting, a review of ISTC's contribution to the development of the Russian nuclear sector was presented.

Commenting on outcomes of the meeting, ISTC Executive Director, Adriaan van der Meer, said: "The review shows that ISTC has provided a recognizable contribution to the development of a safe, modern, Russian nuclear industry. The Agreement signed between ISTC and VNIITF provides an important framework for the future cooperation between ISTC and the Russian Federal Nuclear Center."

VNIITF has submitted 401 project proposals out of which 200 (50%) were funded, which is significantly more than the average. The total amount of funding to VNIITF reaches $30,582,125. The Institute is currently involved in 29 ISTC Projects.
Annual Reports
Annual Reports
The electronic version of the 2018 Annual Report
2018 Audited Financial Report
view
Значимы проект
See ISTC's new Promotional video view

Subscribe to our newsletters