STC launched its Annual Report 2007
10.07.2008
10 July 2008 - ISTC funding for peaceful science R&D projects developed by former weapons scientists in Russia and other countries of the CIS reached $786 million by the end of 2007, ISTC announced at the launch of its 2007 Annual Report.

ISTC has worked with over 980 science institutes of the former Soviet Union and engaged nearly 70,000 scientists in non-defense related international science projects since the organization was established in 1992. ISTC has supported 2,600 R&D projects since inception, with 147 projects receiving funding in the amount of $49.2 million in 2007.

ISTC Executive Director, Adriaan van der Meer, commented: "This Report highlights successful innovation and the real jobs created through ISTC's important contribution to economic diversification in Russia and the CIS".

Joining Mr van der Meer at the Report launch, Olga Vorontsova, Deputy Director of the Russian Federal Nuclear Center - The All-Russian Research Institute of Experimental Physics (RFNC - VNIIEF) situated in the closed city of Sarov, added: "Sarov, a city of over 22,000 scientists engineers, technicians and support staff, faces a real challenge as it transfers the skills and expertise of its significant science community away from former weapons development and toward R&D for peaceful innovation vital to the economic wellbeing of Russia today. Working with ISTC enables the science teams in Sarov to engage with international partners and collaborators in a joint effort to create innovations of benefit to mankind as a whole".

ISTC is supported by the Governments of Canada, European Union, Japan, Norway, Republic of Korea, Russian Federation and Other Countries of the CIS, and United States.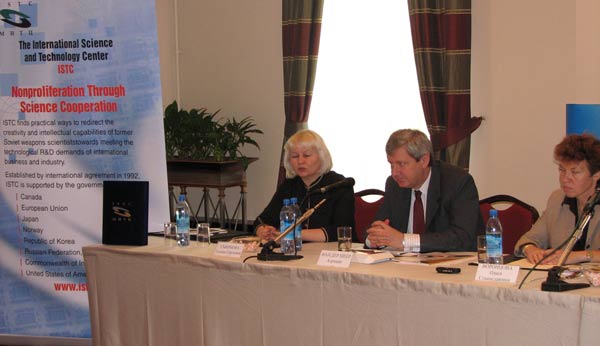 On picture, from left to right: Galina Smirnova (translator), Adriaan van der Meer (ISTC Executive Director), Olga Vorontsova (VNIIEF Deputy Director), Sergey Novikov (ROSATOM Press Secretary)

Notes to Editors

1. The International Science and Technology Center (ISTC)
ISTC, based in Moscow, is an international and non-profit organization that finds practical ways to redirect the creativity and intellectual capabilities of former weapons scientists in Russia and the Commonwealth of Independent States (CIS) towards meeting the technological and R&D demands of international business and industry. ISTC seeks to create long-term, sustainable employment opportunities for scientists and technical researchers within Russia and the CIS.

ISTC has played major role in the nonproliferation of weapon of mass destruction in Russia and the CIS since its establishment by International Agreement in 1992.


2. Russian Federal Nuclear Center - The All-Russian Research Institute of Experimental Physics (RFNC - VNIIEF)
VNIIEF is located is Sarov, formerly Arzamas-16, a city in the Nizhni Novgorod region of Russia, 300 miles east of Moscow. The Institute was established more than 50 years ago for the purposes of progressing the Soviet atomic weapon project, and remains a closed city, requiring Russian Federation agreement on entry into the city. Current Sarov population is about 82,000.

VNIIEF is the largest research center in Russia and employs about 22,000 scientists, engineers, technicians and workers. VNIIEF is an aggregate of large programmatic institutions, integrated by a general scientific and administrative management.


3. Media Contact:
For full information on the ISTC Annual Report 2007 and the work of ISTC, contact:

Sebastien Dakin: dakin@istc.ru
Tel: +7 (495) 982 3264

The International Science and Technology Center
Krasnoproletarskaya ul. 32-34,
P.O. Box 20, 127473 Moscow,
Russian Federation
Tel: +7 (495) 982-3200
Fax: +7 (499) 978-0110
E-mail: istcinfo@istc.ru

www.istc.ru
Annual Reports
Annual Reports
The electronic version of the 2018 Annual Report
2018 Audited Financial Report
view
Значимы проект
See ISTC's new Promotional video view

Subscribe to our newsletters