ISTC Executive Director Awarded a Golden Honorary Medal for Services to Research and Innovation in Armenia
05.10.2010
The International Science and Technology Center (ISTC) Executive Director, Adriaan van der Meer, has today been awarded a Golden Honorary medal by the National Academy of Sciences of the Republic of Armenia in recognition of ISTC's work over 16 years to develop international cooperation in science research and innovation in Armenia.

Accepting the Honorary medal at the National Academy of Sciences in Yerevan, Mr. van der Meer, said: "This is an award that we value as one of the highest accolades ISTC has received during our 16 years of existence and today is another very proud day for my organization. Successful work in science is best carried out in true partnership and is built with time and trust. This award, I believe, is recognition of such a partnership and such a relationship between Armenia and ISTC."

ISTC has supported new opportunities for scientists in Armenia; the Center has assisted with the modernization of the country's research infrastructure and brought Armenian scientists into contact with their peers and colleagues elsewhere in the world.

Funded research in Armenia through ISTC has led to high-level publications and is the subject of discussion at international scientific conferences. The business skills of scientists are also being further developed as they attend training courses run by ISTC in a range of practical areas vital in today's international world.

Read ISTC Executive Director address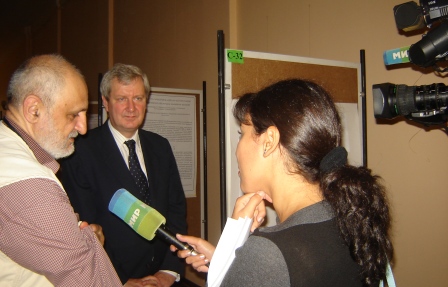 Adriaan van der Meer (center) meeting the press
Background
Since 1995, when the first Armenian project was launched, ISTC has funded 163 science projects to a total value of 38.6 million USD.
This total also includes 22 partner projects funded by international governmental and private entities. And it is through these projects that Armenian scientists and experts have been able to work in full partnership with scientific colleagues from Germany, UK, USA and many other countries.
Armenia has been actively involved in ISTC's Commercialization Program, which aims to take Armenian high-technology to the marketplace to create financial benefits and sustainable jobs in the country. To date, two innovation initiatives have been successfully implemented in Armenia for a total amount of $840,000 and this will lead to the creation of 84 permanent jobs for scientists and researchers in Armenia.
Further assistance will be also provided to Yerevan Physics Institute for the future sustainable development, in particular, for applications for certifications, for marketing studies, and for establishment of a sales department at the Institute.
Projects in Armenia of special interest are:
-The creation of a natural hazards prevention system for the Southern Caucasus and Central Asia;
-The use of amino acids in the search for more effective drugs; and
-The supply of sapphire crystals to meet industrial and international demand.
Currently, a discussion takes place on the future of ISTC to contribute further to newly arisen scientific challenges such as in the field of health and environment The Center intends a greater focus on the realization of innovation projects as a way to contribute more actively to the process of economic persification already underway in Armenia, other countries of the CIS, and Georgia.
There is a keen interest in the outcome of research to develop a new type of medicine band on the positive characteristics of various bacteria. An ISTC workshop on bacteriocins is currently taking place in Yerevan.
Notes to Editors
1. The International Science and Technology Center (ISTC)
ISTC, based in Moscow, is an international and non-profit organization that promotes international scientific cooperation in Armenia, Russia, other countries of the Commonwealth of Independent States (CIS), and Georgia with the aim of meeting the technological and R&D demands of international business and industry. ISTC seeks to create long-term, sustainable opportunities for scientists and technical researchers within Armenia.
ISTC is supported by Canada, European Union, Japan, Norway, Republic of Korea, Russian Federation, other Countries of the CIS, Georgia and the United States.
2. The National Academy of Sciences (NAS RA)
The National Academy of Sciences of the Republic of Armenia is the highest state scientific self-governing organization, which unites NAS Members, and scientific staff of affiliated scientific and research institutions since 1935. The Academy promotes and carries out fundamental and applied research in different scientific fields, as well as coordinates research carried out throughout Armenia. NAS RA is an official scientific consultant to the highest Governing Bodies of Armenia.
As a state scientific organization NAS RA unifies the scientific and research institutes, subsidiary services and governing body - the Presidium of the Academy includes more than 50 scientific institutions and other organizations.
The Presidium of NAS RA has five scientific pisions on particular areas of science:
pision of Mathematical and Technical Sciences,
pision of Physics and Astrophysics,
pision of Armenology and Social Sciences,
pision of Chemistry and Earth Sciences.
NAS RA has scientific collaboration agreements with the Academies of Russia, Georgia, Belarus, Ukraine, Turkmenistan, Hungary, China and the Royal Society of Great Britain. Affiliated scientific institutions maintain wide international linkages and co-operation with scientific institutions and universities of USA, Germany, France, the Netherlands, Israel, Iran, Cyprus, Mexico and other countries.
3. Media Contact:
For full information on the work of ISTC, contact:
English language: Steve Bourne, Telephone +7 (495) 982 3141, e-mail bourne@istc.ru
Armenian language: Hamlet Navarsadyan, Telephone 374 (10) 52 47 40 e-mail: Navarsadyan@istc.ru
ISTC Armenian Branch Office
Marshal Bagramyan av. 24, 0019,
Yerevan, Republic of Armenia
Tel: 374 (10) 524740
Fax: 374 (10) 58 44 83
The International Science and Technology Center
Krasnoproletarskaya ul. 32-34,
P.O. Box 20, 127473 Moscow,
Russian Federation
Tel: +7 (495) 982-3200
Fax: +7 (499) 978-0110
E-mail: istcinfo@istc.ru
Annual Reports
Annual Reports
The electronic version of the 2019 Annual Report
2018 Audited Financial Report
view
Значимы проект
See ISTC's new Promotional video view

Subscribe to our newsletters