ISTC and MFA of Kazakhstan intend to Develop Further their Cooperation
18.07.2019
On 16 July 2019, on the eve of the 68th Governing Board Meeting of the International Science and Technology Center (ISTC) in Nur-Sultan, a meeting took place at the Ministry of Foreign Affairs of Kazakhstan with the participation of high level MFA officials and members of the ISTC Board. Director Dastan Yeleukenov, MFA Department of International Security, welcomed ISTC Chairman Ronald Lehman, Executive Director David Cleave, the EU Representative at the Board Eddie Maier, and other members of the Board for a discussion on the state of cooperation and the prospects for the immediate future. It was for the first time, since the establishment of ISTC Main Office in the capital of Kazakhstan in 2016, that the entire membership of the Governing Board attended a meeting with Kazakhstani diplomats at the MFA.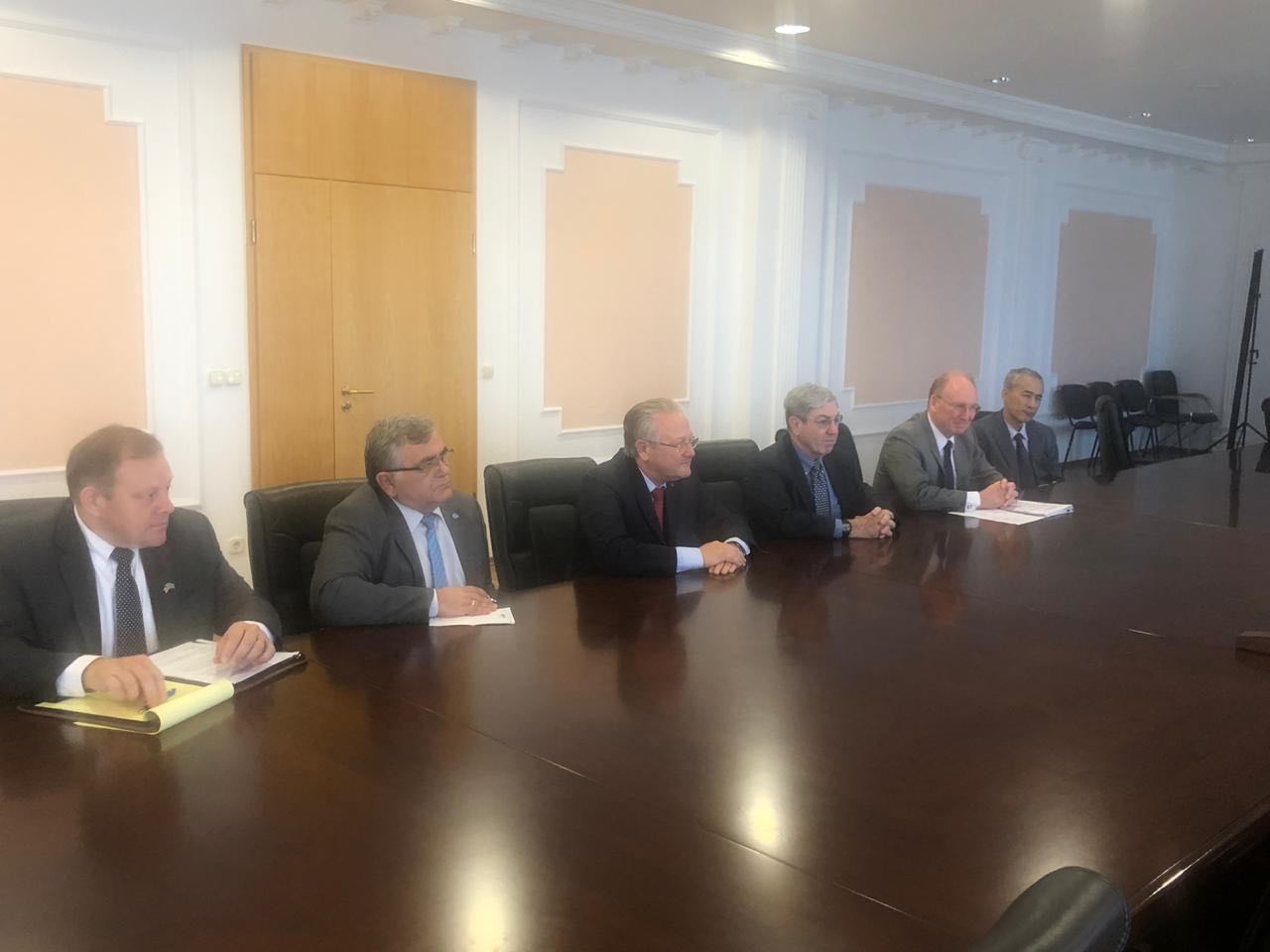 The ISTC representatives congratulated the new government on assuming functions and wished further success to the diplomacy of the host country. The interlocutors noted that the recent developments worldwide illustrate the importance and relevance of ISTC. As an intensely intergovernmental organization ISTC is directed in its re-orientation by the governments of States Parties, working together to strengthen the international security environment. The next stage of the functioning of the organization includes expansion of both the thematic and geographic scope of activities, for which Kazakhstan could render valuable support.
The positive contribution ISTC could make in Kazakhstan's non-proliferation policy came under survey, including in the context of the Kazakhstani Chairmanship of the Nuclear Suppliers Group. Also, ISTC was invited to take part in the international conference Kazakhstan convenes in Nur-Sultan at the end of August, to provide platform for exchange of experience among various Nuclear Weapons Free Zones.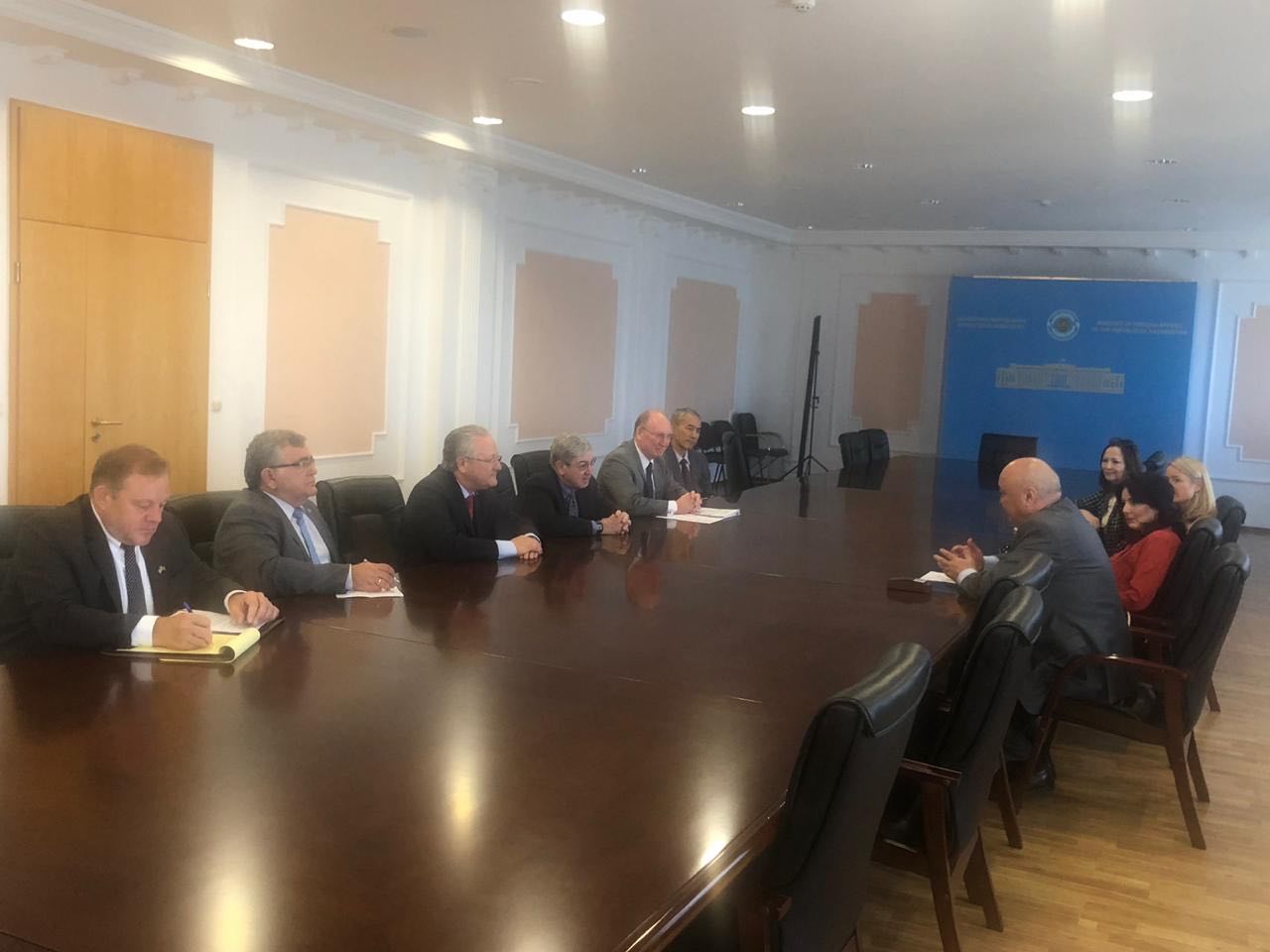 The MFA will host several events over the next year where ISTC can present as side event participants both on a local and regional basis to present projects and capabilities. Moreover, Kazakhstan's experience in nuclear disarmament continue to acquire further global importance, as exemplified in the course of the international efforts for dismantling the North Korean nuclear arsenal.
The ISTC will continue to support Kazakhstan in the development of its normative framework and policies on export control on dual use items. The country is a pivotal participant in the EU-funded Targeted Initiative on CBRN Export Control on Dual-Use Materials and Technologies, whose experience and achievements may serve as an example for other countries from Central Asia and the adjacent regions.
The meeting at the MFA was attended also by the following participants: Mr. Assylbek Tauassarov, Counsellor, International security Department; Ms Sarah Banerjee, International Relations Officer, U.S. DoS; Mr. Nicholas Carlson, Director, U.S. Department of Energy - Kazakhstan Office; Mr Young-Ouk Lee, Korea Atomic Energy Research Institute; Ms Tamara Zhunussova, Senior Advisor, Norwegian Radiation and Nuclear Safety Authority; Ms. Nino Gachechiladze, Deputy Director General, Shota Rustaveli National Science Foundation; Aidyn Turebayev, ISTC Deputy Executive Director; and Kamen Velichkov, SPM & Diplomatic Advisor.
Annual Reports
Annual Reports
The electronic version of the 2018 Annual Report
2018 Audited Financial Report
view
Значимы проект
See ISTC's new Promotional video view

Subscribe to our newsletters