Meeting with Agricultural Researchers and ISTC Staff about Outcomes of Research and Development to be exhibited in Expo AGRI WEEK TOKYO 2019 supported by SB158 and to see their facilities.
24.04.2019
Masami Torikoshi, Kalamkas Shamplyeva, and Aizada Turekulova visited S. Seifullin Kazakh Agritechnical University and its Institute of LLP "Institute of coal chemistry and technology" in the morning of 24 April, 2019. Director, Prof. Yermagambert Bolat Toleuhanuly, Deputy Director, Prof. Kassenova Zhanar Muratbekovna, Dean of Faculty of Agriculture, Prof. Gany J. Stybayev, Vice-Rector for Scinece, Prof. T. Tokbergenov, Vice-Rector for International Relation, Prof. Guy Reed, Dep. Forest Resource, Associate Prof. Aidarkhanova Gulnar and other staff welcomed us.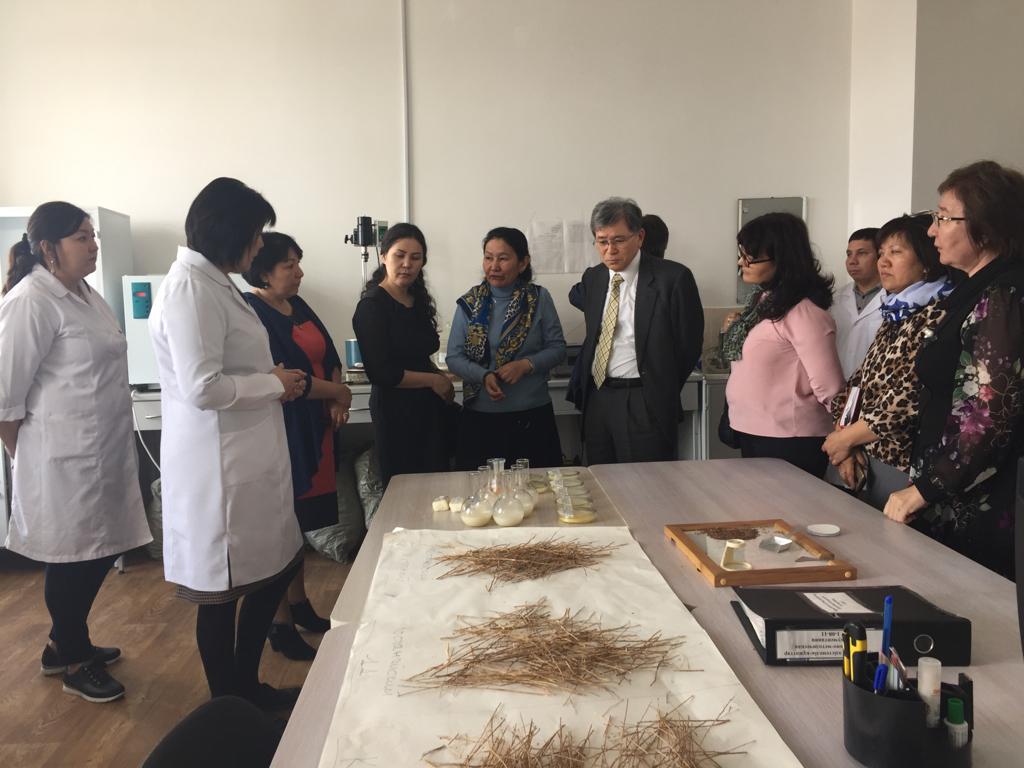 We visited LLP "Institute of coal chemistry and technology" first. We met Prof. Toleuhanuly, Prof. Muratbekovna, Ass. Prof. Aidarkhanova and their colleagues. Dr. Kalamkas introduced ISTC activities, especially SB activities, Dr. Torikoshi also told them he was interested in agriculture to be introduced to Japanese agricultural market as well as global market. They showed us an outcome of their research and development, a fertilizer "Casuglegumus."
The fertilizer is highly concentrated liquid fertilizer produced from coal. According to the brochure of "Casuglegumus" is intended for all type of crops on any type of soil, recommended for use at all stages of plant growth and development – from presiding processing of seeds and planting material, root and foliar fertilizing during the vegetative period to tillage after harvest. It has been patented No. 32562, and already commercialized. It is interesting that the fertilizer is useful for animals as well as plants. Prof. Toleuhanuly gave us a bottle of the fertilizer as a present.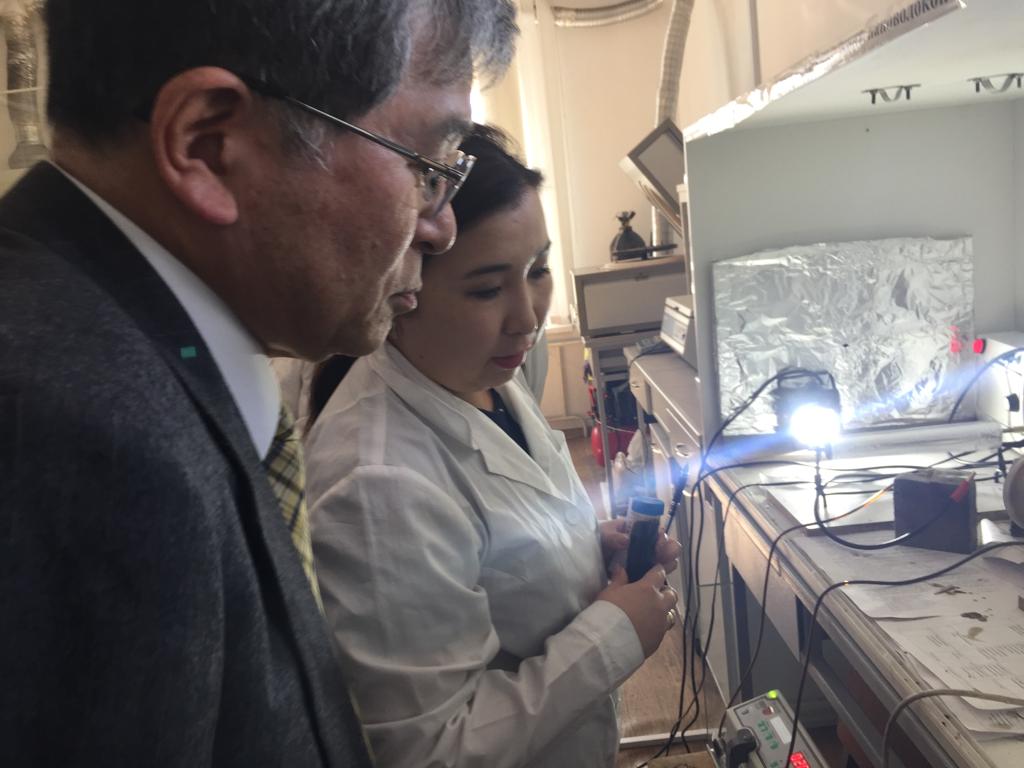 After the discussion we had short tour of their laboratories. Prof. Toleuhanuly is also actively developing new products from coal such as pellet type filter, efficient fuel used in home in his prototype plant under collaboration with a private company. His laboratories have also many activities for research and development of new product, such as carbon-fiber and so on. An important point is that all items have been developed from low quality coal which is useless for fuel.
After LLP "Institute of coal chemistry and technology" we visited Saken Seifullin Agrotechnical Univeristy. The university has about 11,000 students including undergraduate and graduate students. Associate Prof. Aidarkhonova and Prof. Gany Stybayev introduced us to the campus and many laboratories: agriculture, biology, agrichemistry, immunobiology, etc. All laboratories seemed to be well managed for student education. At the same time they are trying to obtain ideas from students to develop new items from agricultural materials such crops, milk and seeds.
There is a laboratory for small scaled greenhouse which is mainly used for education of students. They can carry out experiments. The university has another large scaled field to research agriculture. Laboratories for basic research are well equipped with various state-of-art analyzers, such as sequencer, auto chromatography etc. All laboratories are very clean and neatly setup. It seems to be well managed. On the campus large equipment used for agriculture is decorated. They are designed for large scaled agriculture in Kazakhstan. I felt different technologies are used for Kazakhstan agriculture from Japan. They well suit the agriculture of vast steppe. Their idea of technologies might be interesting for Japanese farmers, corporates, etc.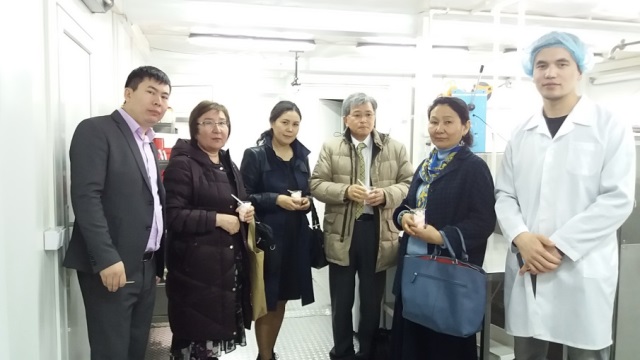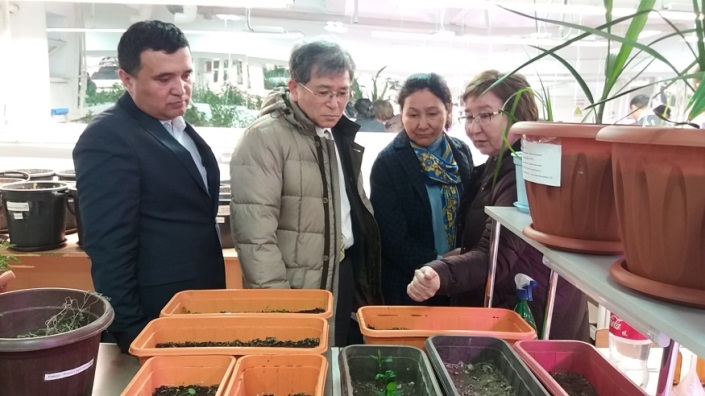 Annual Reports
Annual Reports
The electronic version of the 2019 Annual Report
2018 Audited Financial Report
view
Значимы проект
See ISTC's new Promotional video view

Subscribe to our newsletters