"The New Environmental Code as a basis for high-quality economic development"
26.04.2019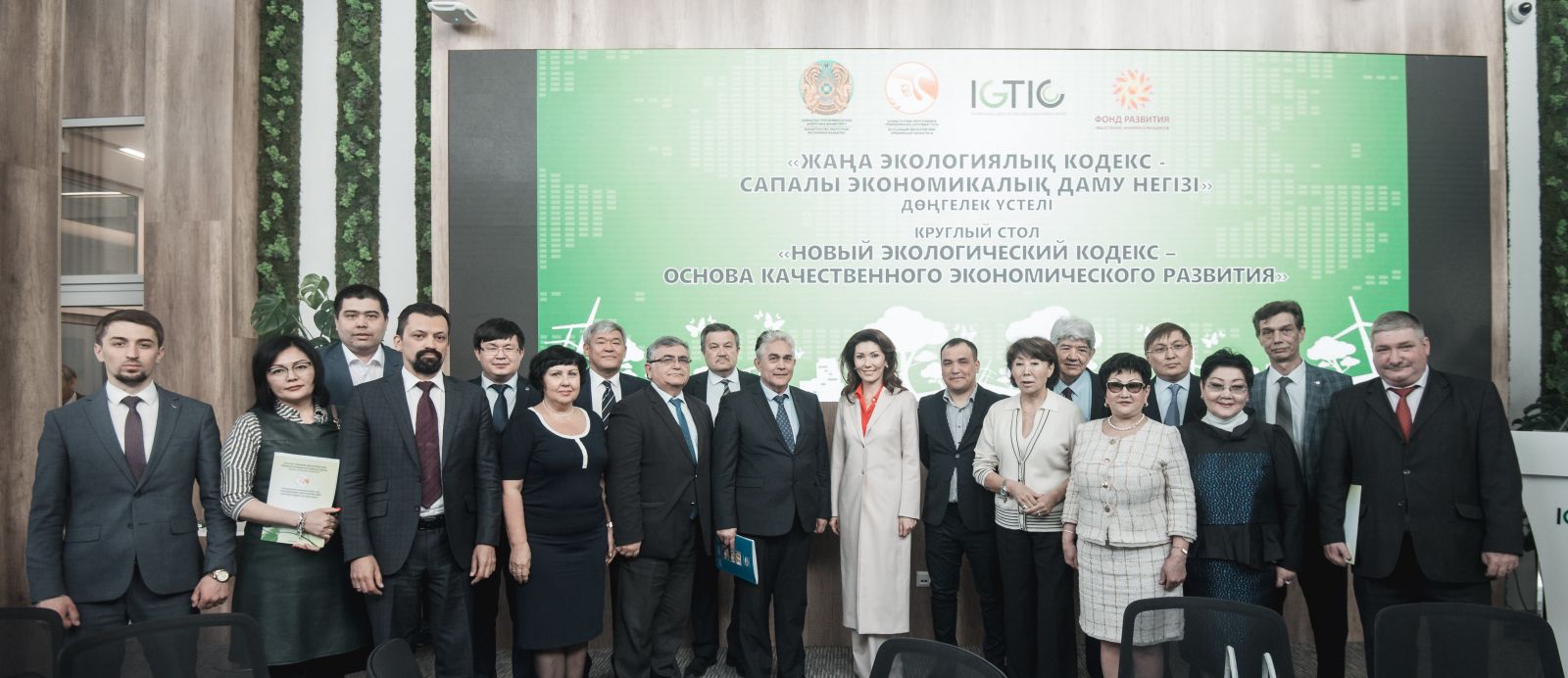 ISTC, THE ASSOCIATION OF ENVIRONMENTAL ORGANIZATIONS OF KAZAKHSTAN AND THE INTERNATIONAL CENTER FOR GREEN TECHNOLOGIES AND INVESTMENT PROJECTS POISED TO CONLUDE A TRIPARTITE MEMORANDUM OF COOPERATION
On 22 April 2019 ISTC attended a Round Table on the topic: "The New Environmental Code as a basis for high-quality economic development". The forum was convened in Nur-Sultan by the Association of Environmental Organizations of Kazakhstan (AEOK) and the NJSC International Center for Green Technologies and Investment Projects (ICTDC); the session was presided by the Chairman of the Presidium of the Association Alia Nazarbayeva, and the Vice Minister of Energy Sabit Nurlybay. The ICTDC Director Rapil Zhoshybayev presented an introduction to its activities, while Yeldos Abakanov, Deputy Chairman of the Board of the Association, updated the audience about the achievements of AEOK and the further development prospects in the field of environmental policy.
The participants in the Round Table discussed the content of the new Environmental Code and made proposals for incorporation additional texts in the draft. The Director of TALAP Think Tank Rahim Oshakbayev made remarks on the air quality management, which triggered exchanges among proponents of opposing views. Aidar Kazybaev, Executive Director of Astana International Financial Center, commented on the possibilities of financing projects through the mechanism of green bonds.
On the fringes of the Round Table Kamen Velichkov, ISTC SPM and Diplomatic Advisor, discussed potential areas of cooperation with ICTDC Director Rapil Zhoshybayev and AEOK Executive Director Aigul Solovyova. The management of both organizations expressed an opinion that the cooperation with ISTC is valuable and important, and it may take place in a framework to be defined in a tripartite Memorandum of Understanding.
Annual Reports
Annual Reports
The electronic version of the 2018 Annual Report
2018 Audited Financial Report
view
Значимы проект
See ISTC's new Promotional video view

Subscribe to our newsletters