ISTC joins Europe Day Celebration with friends and partners in Astana
12.05.2018
12 May 2018. ISTC representatives took part in the Europe Day reception, organized by the EU Delegation in Astana. The event followed the 15th meeting of the EU-Kazakhstan Parliamentary Cooperation Committee. Members of the Kazakhstan Mazhilis and the European Parliament, ministers, diplomats, civil society and business leaders, representatives of the academia and clergy were amongst the guests who gathered at the reception that also bid farewell to the EU ambassador to Kazakhstan.
A number of official guests talked about the achievements under the enhanced partnership and cooperation agreement between the European Union and Kazakhstan. Amongst them were the Deputy Minister of Foreign Affairs Roman Vassilenko, the co-chairs of the EU-Kazakhstan Parliamentary Cooperation Committee Iveta Grigule-Peterse and Mukhtar Tildabekuly Yerman, and the head of the EU Delegation Traian Hristea.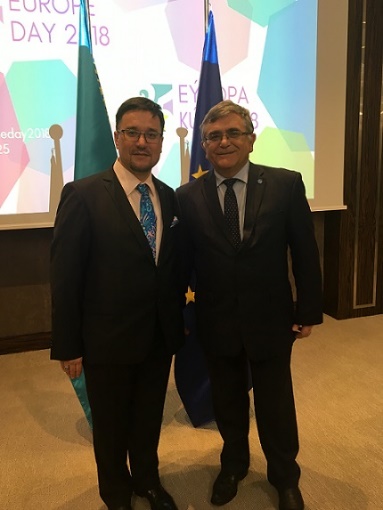 ISTC joined a group of partners who offered special thanks and congratulations to the departing ambassador Traian Hristea. He was the official who – on behalf of the EU – signed at the end of 2015 the Continuation Agreement that represents a new stage in the development of the International Science and Technology Center, since then headquartered in Astana. Ambassador Hristea was instrumental in ensuring the ratification of the Agreement by the EU Parliament and made everything possible to support the expansion of the ISTC into new fields of work and its enlargement to new partner countries. In recognition of this contribution, Kamen Velichkov, Senior Programme Manager and Diplomatic Advisor, presented on behalf of ISTC a special commemorative certificate to ambassador Hristea.
In addition to being one of the founding parties to the ISTC, the European Union remains for over 25 years a strong advocate of the Center's role, mandate and mission. It continues to provide institutional support, as well as new funding opportunities that allow ISTC to enrich its portfolio of activities and to implement complex projects in Central Asia, Africa and the Middle East.
Annual Reports
Annual Reports
The electronic version of the 2017 Annual Report
and2017 Audited Financial Reportis available by downloading the pdf file from this website
view
Значимы проект
See ISTC's new Promotional video view